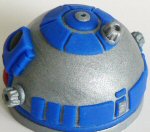 Can you tell what it is yet? 😉
It's work-in-progress Friday, so here's a sneak peek at my latest FIMO sculpture. I should have included something for scale in the photo but, just so you know, it's just over 3cm in diameter.
I've only finished the top part but I'm really pleased with it so far. As a lifetime fan of this movie I've always wanted one of these, and hey, why buy when you can make?!
I'm going to set this one aside for a while as I have some January-specific projects to work on (crochet calendar submission and my OneHourCraft bag). Any idea where I can find an extra couple of hours each day so I can actually make all the things I want to?
Oh, and don't worry – I've baked what I've done already, so I don't need to worry about all my hard work getting dusty or squashed (I learned this lesson the hard way).