Basic Crochet Cord [video]
Link easily to this tutorial in
your patterns
:
www.planetjune.com/cord
This decorative cord is easy to crochet as it uses only single crochet stitches! It makes a strong flattened non-stretchy braid with many applications, for example: jewellery, a narrow belt, or a strap for a small bag or purse.
I used this cord to make my Crochet Braid Bracelet (you can find the free pattern for these bracelets at www.planetjune.com/braidbracelet):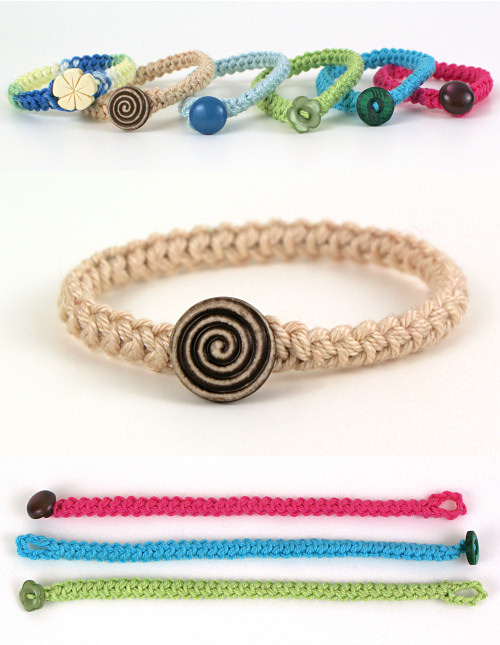 My method is a simplified variation of the cord used to make Romanian Point Lace. Please note: if you're looking for instructions for Romanian Point Lace cord, this is *not* how to make it!
And now to the video tutorial for my basic cord (in right- and left-handed versions, of course):
Basic Crochet Cord (right-handed)
Basic Crochet Cord (left-handed)
Note: The videos may look a little small embedded in the blog: if so, you can fullscreen them or click through to YouTube (links: right-handed; left-handed) to watch them full-sized 🙂
Other Ideas for Use
There are lots of uses for a cord like this. Here are a few, off the top of my head:
a necklace
a hairband
a belt for a sundress
a strap for a small purse
a tie-back for a curtain
Or, if you'd like to get even more creative:
braid three or more strands of cord into a wider plait
crochet into the loops along one of the edges to use the cord as a solid base for a more decorative design
I'm sure you can think of lots more! I hope you'll let me know what additional uses you come up with for this cord…
Happy cord making!
If you enjoy my crochet tutorial videos, please help to spread the word about them, and/or subscribe to the PlanetJune YouTube channel.
Thank you so much for taking the time to leave a comment here! I read and appreciate every comment. I only respond to questions here on the blog, so please return to this page to see my reply, or check the box below to subscribe to new comments by email.
Please note that I can only answer questions related to PlanetJune patterns and tutorials (see details), and I can only respond to questions or comments written in English. Thank you :) - June