July has come and gone, and so it's time to draw another 'Review and Win' winner… July's winner is Cheryl D, who said:
I used my detail stuffing tool for the first time today… I bought it ages ago and haven't made any amigurumi lately, (it's all been big projects and house moves) and when I used it today to make a penguin baby toy, I WAS AMAZED! It's absolutly brilliant and does exactly what June says it does! Thanks June! You are a GENIUS!!!
Congratulations, Cheryl – you win a free pattern of your choice! (And thanks for the lovely review of my Detail Stuffing Tool too!)
I've faced a dilemma about the reviews in my shop and I'd like to explain my thoughts and my decision here, in the interest of transparency. I had my first bad (2 star) review last week, but it transpired that the reviewer hadn't actually bought the pattern – she was only commenting about her opinion of my design: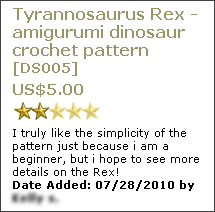 This judgement was based on my photos alone – the 'reviewer' has not seen the pattern.
When you leave a comment on my blog, it's perfectly acceptable to say "Cute!" or "I like it, but I wish you'd put more details into it" – you're just leaving a comment for me (and the rest of the world) to read about what you think of what I'm showing you.
When you leave a review in my shop, the purpose is different: a review is there to help other customers to decide whether they should buy the item you've reviewed, or not. As such, leaving a review giving your opinion of the look of the finished piece isn't helpful – you're not telling the reader anything she can't see for herself by looking at the photos in my shop! I believe that the only really useful reviews are ones where the reviewer has purchased the pattern and can give an opinion based on reading (or having made) the actual pattern, for example:
"This is a well-written pattern"
"I found it really confusing and hard to follow"
"The step-by-step photos were really helpful"
"I found a bunch of errors and the designer didn't reply to any of my emails about them"
This is the most realistic design I've found, and the pattern is very clear
(These comments are for example only, although the positive ones are loosely based on real reviews – I hope nobody will have cause to leave those negative comments about any of my designs!)

Now, whether the rating attached to these is 1 star or 5 stars, or something in between, they all give you valuable information about what you can expect from the pattern, and as such are helpful reviews.
I've decided (after a lot of thought) to delete the above 2 star review from my shop, as it will harm my sales but it offers no information that would help anyone else make a purchase decision. In fact, the 'review' is actually misleading – when I mentioned it on Twitter, several people assumed she was leaving her review of the pattern itself, as she does say "I like the simplicity of the pattern" (which, let me remind you, she has never seen) – they thought she was saying that the pattern didn't live up to her expectations and didn't include enough detail – which would be a valid criticism, except that it's not true! [FYI, my T rex pattern contains 2 full pages of assembly instructions, including 5 photos – I don't think anyone could call that a lack of detail!]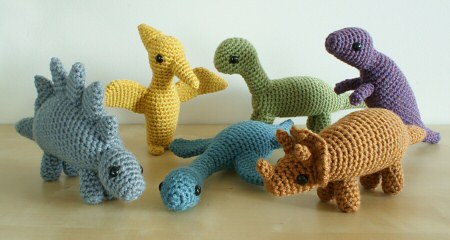 If the comment had been posted on my blog instead, I wouldn't have a problem with it: of course not everyone will like my style! I have no problem with that, or with people telling me that they would like my T Rex design more if it had teeth and claws (for example). But it would insult your intelligence to suggest you need a review to tell you that my design doesn't include a lot of details like that – you can see for yourself whether you like my design style based on my photos, and choose to buy the pattern (or not) based on your own opinion.
Let me be clear about this: I'm not deleting all negative reviews from my shop! If you truly feel, having bought a pattern, that it deserves 4, 3, 2, or even 1 star, and you explain your reasons for feeling that way in your review, I will leave that review intact for all to see. But reviewing a pattern without ever seeing that pattern is like reviewing a book after just looking at the cover – how could you possibly know what it's like without even looking inside?!
So, please do continue to review the patterns and products in my shop, but please limit your reviews to items you've actually experienced for yourself. The reviews aren't there for me to read (you can email me or leave me blog comments if you want to tell me your opinions!) – they are there to help others, so please write the sort of information you'd find helpful to read! Thank you 🙂