This post is part of my occasional series of photoblog posts about the wildlife and nature I see while living in South Africa.
I'm very happy to be able to resume these wildlife posts! One of the hardest parts of the last year was having no free time to enjoy the amazing opportunity I have here to get relatively close to animals you'd normally only see in zoos, if at all, in their natural habitat. But that's all ended, and now I can experience natural wonders again, and share them with you… As I'm always driving, I don't usually get to share scenic views with you – it's hard to take photos with both hands on the wheel! – so I've conscripted Dave to take a few landscape shots on his phone en route so you can get a better feel for our future adventures.
After Christmas, we made our annual cherry-picking pilgrimage to Ceres. You just can't beat sweet, juicy cherries, straight from the tree, and it's well worth the 5-hour round trip during the short cherry season, not only for the cherries, but it's also a lovely drive, through farmland…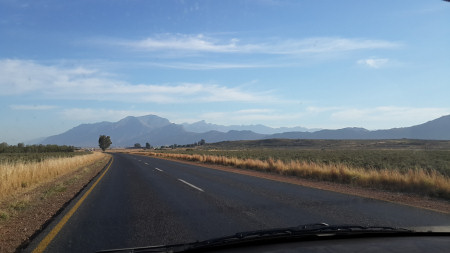 …and mountains…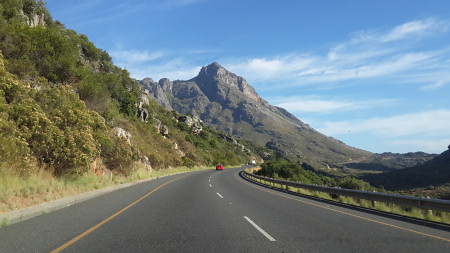 …and then more farmland. This was our third trip to Ceres, but the wonderful (and frustrating) thing about wildlife is its unpredictability – you rarely see the same animals twice along the same route. In this case it worked in our favour – I saw my first Blue Cranes!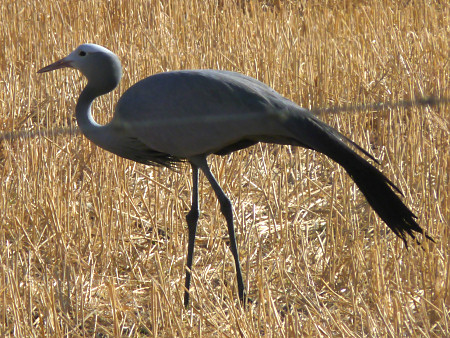 The Blue Crane is the national bird of South Africa. It's large and unmistakable, with its bulbous head, thin neck, and long wing plumes, and I've been hoping to see one ever since we moved here. Just look at that strange head shape!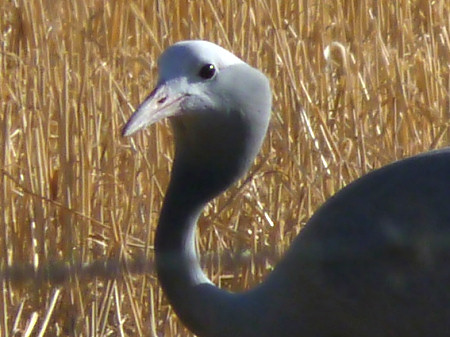 The first one we saw was flying, but luckily, I spotted this one in a field from far enough away that I could pull over to the shoulder and stop right next to it to take some photos – perfect!
It always irks me when I see these 'do not feed the baboons' signs, because I've only seen baboons once or twice in my almost 3 years here, and I've never been able to take a decent photo when I have seen them – only shots of rapidly-disappearing baboon backsides (not the ideal angle for a photo…)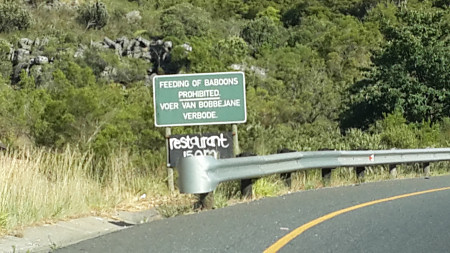 Yes, the Afrikaans word for baboons is bobbejane – teehee!
Half an hour or so after seeing these signs, when I'd long given up on actually seeing any baboons on this trip, we scored another wildlife victory – and this one was really special…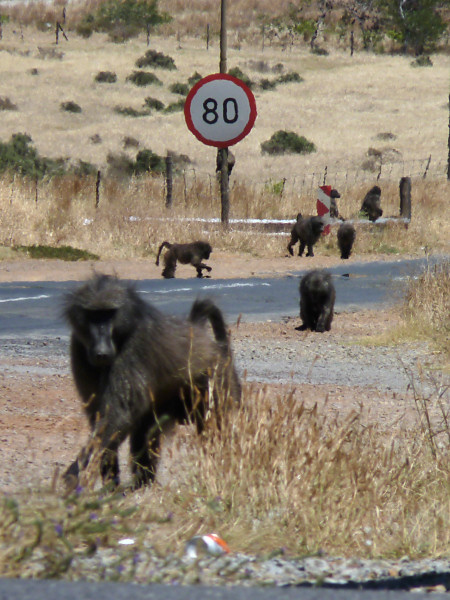 Sorry the photo looks wobbly – it's due to heat haze
A whole troop of baboons, in the middle of the road! They were completely unconcerned about the passing cars: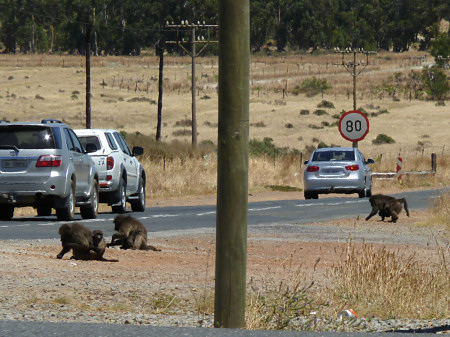 In fact, the big male sat himself down right in the middle of the road for a few minutes – I'm not sure what would have happened if a car had appeared in his lane…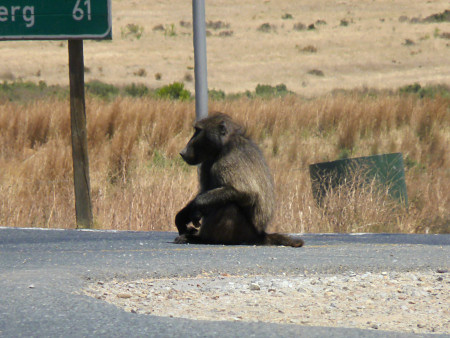 It wasn't until I looked at my photos that I noticed that almost all the baboons (except the big male) had babies clinging to their backs or tummies!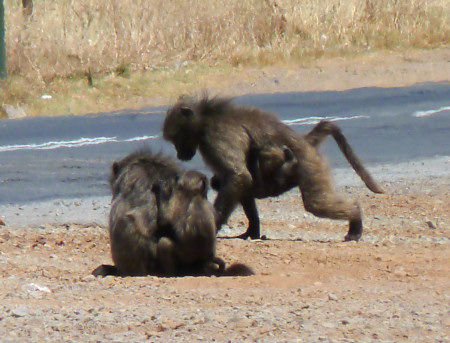 You do have to take care around baboons, hence all those 'do not feed the baboons' signs; they can be dangerous, and the males in particular are very large and can get fiercely territorial. The dominant male was very impressive, and got within a few metres of my car – luckily he was feeling laid back and didn't try to charge us while I had the window down to take these photos!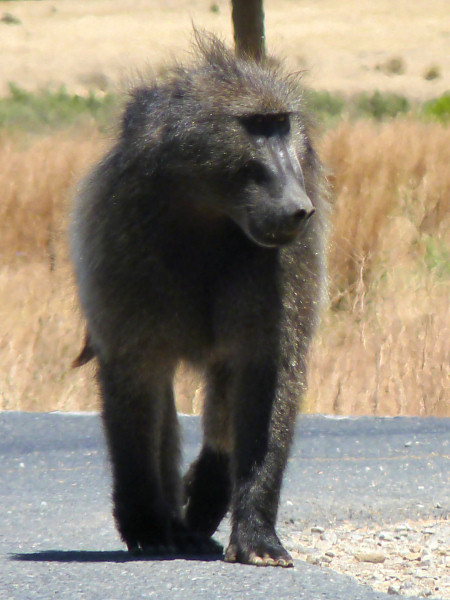 What an amazing sight, to see them all out in the open, in the middle of nowhere, like this – don't you think?
I really hope you've enjoyed this wildlife post! Please leave me a comment if so – I do love to hear from you…