I've been very busy crafting this week, but most of it isn't quite ready to show off yet. But I'm feeling proud of myself, because I made a new skirt from scratch in an evening, and without a pattern: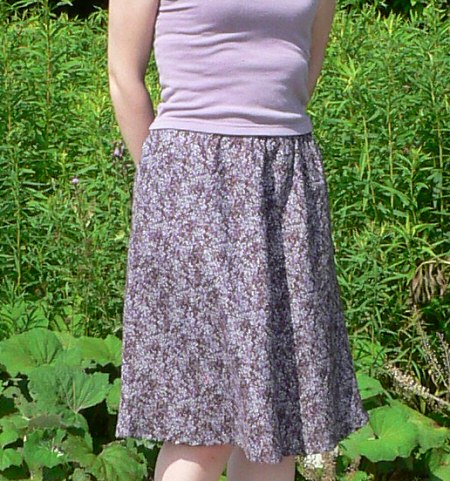 It was really easy – I just traced around an existing skirt, added seam allowance, cut the fabric (I used 100% cotton) on the bias, sewed the sides together, and then sewed a loop of elastic in at the top and hemmed the bottom. The elastic waist gathers the fabric around the top, and you can just pull the skirt on and off.
I decided that I wanted the gathers around the waist to be perfectly even, so I stretched the elastic to the same width as the fabric and then sewed them together. Then I had to stretch it all out again so I could sew down the waistband to hide the elastic. With hindsight, I've thought of a much simpler method that will look just about the same and take a fraction of the time.
I'm going to make another skirt with my simpler method – it's a really cute simple summery skirt and it would work with pretty much any kind of fabric. Would anyone be interested in a tutorial?