PLEASE NOTE: As of November 1, 2012, the PlanetJune Affiliate Program has been discontinued. Thank you for your support. I'm keeping this page up as it contains useful general marketing info!
---
New to the PlanetJune Affiliate program? Here's what you need to know:
Make money when you recommend PlanetJune online using your personal affiliate links.
Earn a 5% commission every time your friends and readers shop with PlanetJune.
Monitor your earnings from your PlanetJune account.
Receive your commissions as a quarterly Gift Certificate balance in your PlanetJune account*.
* $2 minimum payout; amounts below $2 will be carried forward to the next quarter.
If that sounds good, please sign up for the PlanetJune Affiliate program. After all, if you enjoy my patterns, you may as well be paid for recommending them to your friends and readers!
If you're a new affiliate, or would like to earn more through the program, here are my tips for success…
Top 3 affiliate tips
1. Personal Recommendation
Having a little banner ad in your blog sidebar isn't the best way to engage your readers. How often do you look at and/or click ads like that? (Personally, I never do.) To get people to click through with your link, make it personal:
If you tell someone you bought a pattern, link to it. If you're posting to your Facebook wall, tweeting, or sending an email to a friend anyway, saying "hey, I just bought a beautiful pattern from PlanetJune", why not include a link? People will click through to see the picture, and they might just to decide to buy it too! If you give your affiliate link, you'll get your 5% commission from their order.
If you've made something from a pattern, link to it. Showing a photo of something lovely you've crocheted? Say "This was a great pattern from PlanetJune" and give your affiliate link to the pattern – people will listen to your personal recommendation, and if they click through and buy it, you'll get your commission on the sale.
Any time you mention PlanetJune, use your affiliate link. If you're talking about my website or patterns anyway, instead of directing people to www.planetjune.com, give out your affiliate link to my shop instead. If anyone clicks through to my shop that way and then buys anything, you'll get your commission.
I can't emphasise this enough: advertising is ineffective. People trust you and your opinions; they'll be 100x more likely to click through if you genuinely recommend me and my patterns. And they'll respond much more to a personal message from you about a specific pattern you like, or showing a pic of what you've made, than to just a generic link with no explanation.
2. Specific Links
Linking to a specific pattern, or a category page like the
main Dinosaurs page
, will make people more likely to click through than just linking to the main page of the shop, because you can be more specific when you recommend it. "June's dinosaur patterns are the best. The shaping is excellent and my kids love them!" is a lot more interesting than "June has really good patterns".
Just don't forget to include your affiliate ID in the link by going to the Deep Link Generator (on the My Account > Marketing Tools page) and converting the URL of the page you want to link to so it includes your ID, or you won't get your commission.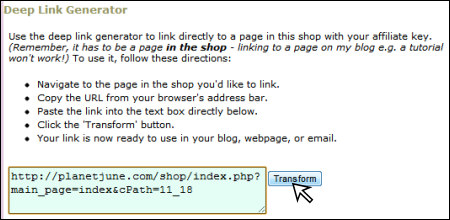 Remember, once someone has clicked through to my shop using your link, if they order a bunch of stuff (in the same visit to my shop) you get the commission for the whole order, even if you only linked to one pattern!
3. Use URL shortening
Your affiliate URLs are clunky. The base URL to my shop looks like:
planetjune.com/shop/index.php?main_page=index&referrer=PJ_XXXXXXXXXXX
and if you link to a specific pattern, that's even longer:
planetjune.com/shop/index.php?main_page=product_info&cPath=11_17&products_id=202&referrer=
PJ_XXXXXXXXXXX
Nobody will want to click that! If you're giving out a text link, to make it easier, go to bit.ly, paste in your link, and it'll give you a nice shortlink you can use instead. It'll look something like this: bit.ly/NGfVOV – isn't that much neater?
Also, remember I can set up a custom shortlink for you to the main page of my shop, of the form www.planetjune.com/xxx (where you choose xxx – pick something unique and easy for you to remember!) Just email me if you'd like me to set that up for you.
---
I hope you'll use these tips to earn lots of credit towards your future PlanetJune purchases! And if you'd like to sign up for the PlanetJune Affiliate program, please do – I'd love to reward you for helping me find new customers through your recommendations 🙂