If you need to print a PDF pattern so the text is larger, you can do it by printing each page of the PDF so it's split onto two sheets of paper.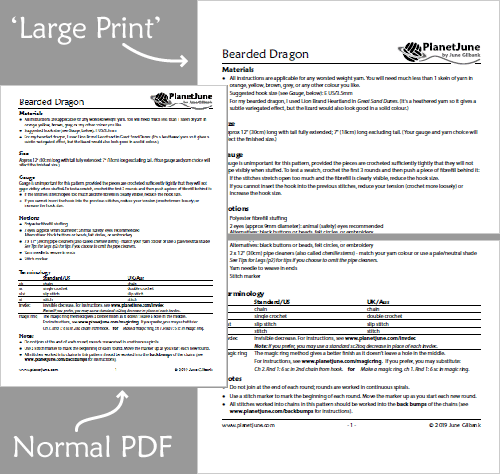 I've worked out which settings to use in Adobe Reader to tell it to print in this way:
The text size will be increased (the exact amount depends on your printer, but it'll be around 125-130%).
No instructional text will be cut off. Note: If you see a partial line of text at the top (or bottom) of one page, don't worry: I've added enough overlap that the complete line will be repeated on the previous (or next) page.
Unfortunately, any images that are located in the middle of the page may be cut in half (so the top half of the image is printed at the bottom of one page, and the bottom half of the image is at the top of the next page).
While this isn't a perfect solution, if you need to work from a printed copy of a pattern (instead of a digital copy where you can zoom in as much as you like) and you need large print text, this is something you can try!
Here's how to do it:
The dialog box may look slightly different depending on your version of Adobe Reader – here are the settings in mine: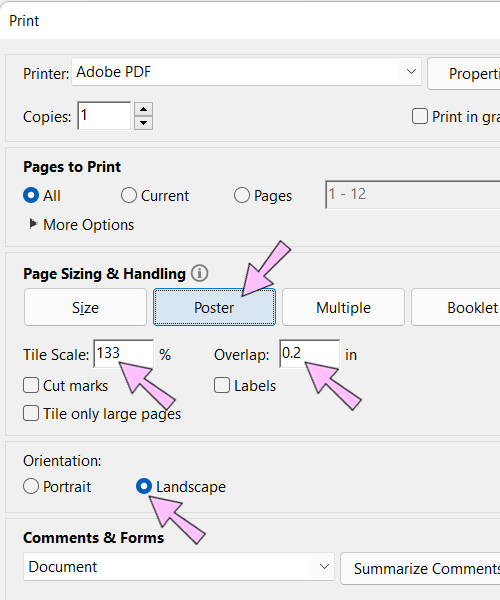 Step by step instructions:
Open your PDF file in Adobe Reader.
Go to File > Print
In the print dialog settings that comes up, make the following changes:

Printer: make sure your printer is selected at the top (where it says Printer: Adobe PDF in the picture above)
Orientation: Landscape
Page sizing (or scaling): Poster (or may be called 'Tile All Pages')
Tile Scale: somewhere around 125-130% (see below for details)
Overlap: 0.2 in

Click 'Print' to send your file to your printer.
Setting the Maximum Scale
Your printer's settings will control the maximum size you can print – it depends how close it can print to the edge of the page. To set the maximum zoom, you're looking to type the largest number you can in the Tile Scale box without the page breaking onto four sheets of paper instead of two.
Here's an example with my printer. At 125% Tile Scale, you can see in the preview box that my page has one horizontal dotted line through the middle. That's what you want to see – it means the page will be split onto 2 sheets of paper: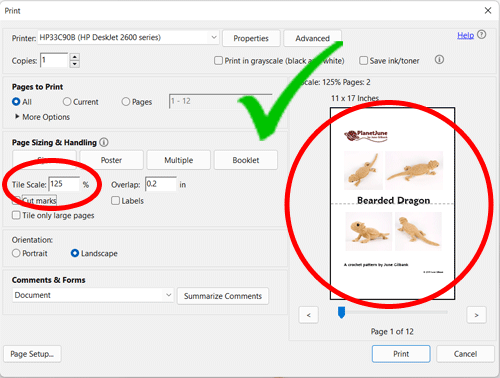 At 126% Tile Scale, my page preview now has a horizontal and a vertical dotted line, indicating that it'll be split over 4 sheets of paper: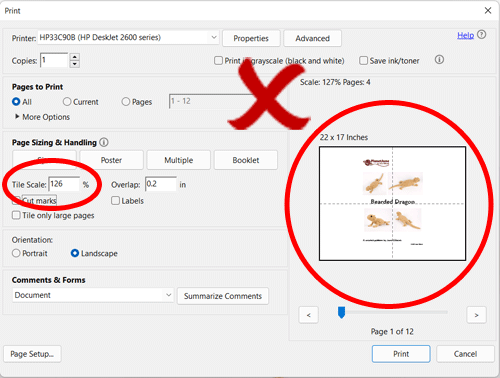 You definitely don't want this! The pattern would be unusable, as each line of text would be split in half vertically, plus it would waste lots of paper.
So, in my case, the largest number I can use is 125%. Play around with the number – yours may be a little higher or lower, depending on your printer's margins.
Before and After
Before (below, left): Each page of the PDF prints in portrait format.
After (below, right): Each page of the PDF prints in landscape format, split in half so one page of the original PDF prints onto two sheets of paper.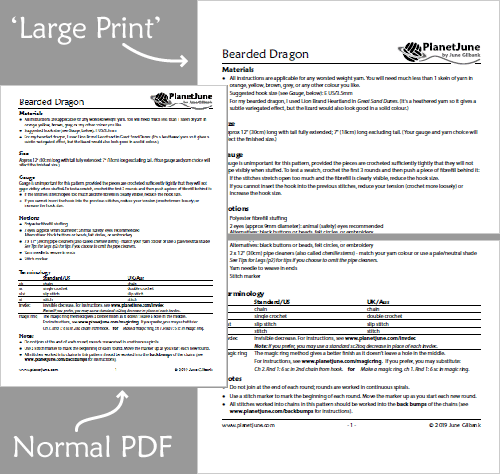 If you compare the size of the pattern page shown in the image above, you can see that the printed text is much larger – perfect if you need to print a PDF but find the text is just too small to comfortably read.
Of course, if you don't need a printout, you can simply zoom the PDF to any size you need so you can read it on your screen.
Although I've only ever had one request for large print patterns to date, I'm sure this technique could be useful for people with visual impairment, or anyone who needs to print a larger version of a PDF without losing any content off the edges of the printed pages – you can use this method to print any PDF file at a larger size if you need to, not just PlanetJune patterns!