April's OneHourCraft Challenge is "to make an impossibly gorgeous necklace", so I got the polymer clay out and started playing.
I used a base of translucent Fimo Soft, with snakes of green and blue running through it. I also added dark greeny-blue micro beads (tiny glass beads with no holes) to the rounded beads, which is why they look darker than the others. I had a bit of a surprise when I baked the beads – they darkened and went from greenish blue to a definite green, but that's okay: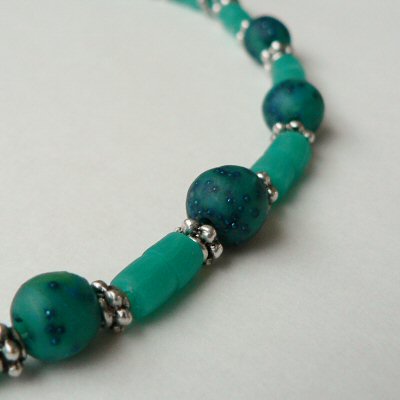 I strung the beads with silver (coloured) spacers and findings. The finished necklace length is 14″ so it's just longer than a choker and sits around the base of my neck.
Thanks Mia for the inspiration to make a necklace! This was a fun quick craft to try.