A couple of years ago, I bought 2 bottles of IKEA Pyssla – more commonly known as Perler or Hama beads, or the generic name, fuse beads. If you're not familiar with them, they're little plastic beads that you arrange into a pattern or picture on a special pegboard, then heat using your iron to melt and fuse the beads together. You end up with a plastic sheet you can use for keychains, coasters, or as decoration.
On a regular pegboard, each bead melts into a square shape, so you can use any pixelated sprite (a character from an 8-bit video game, for example) as an instant pattern. One square per pixel – it's like an instant gratification version of cross-stitching, as you can complete a coaster-sized picture in just a few minutes.
So I borrowed some ideas from sprites other people have made, and searched for game sprite images to make some of my own. Here are my first few: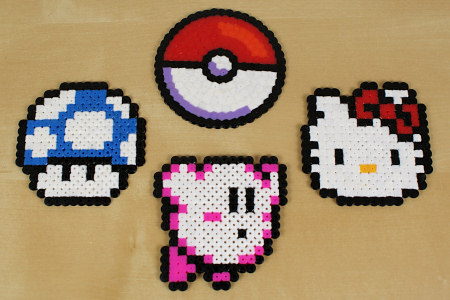 New coasters! Don't worry, I've tested them and the heat of the hottest mug of tea isn't enough to melt them 🙂 And, because they're made of plastic, they'll be easy to wash clean if they get dirty. You can add a background colour to make your coasters into squares, but I purposely chose round-ish sprites that are large enough to function as a coaster without a background – saves time and beads!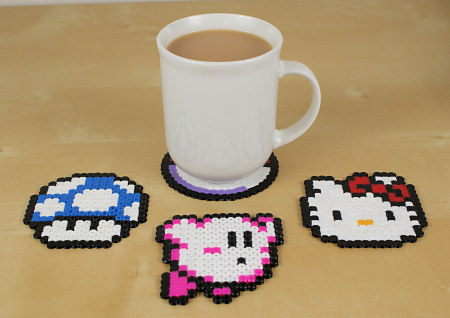 My tips if you'd like to try fuse bead crafting:
If you have access to IKEA, PYSSLA beads and shape boards are much cheaper than the Perler/Hama equivalents (and the bottle of beads is huge and will probably last forever!)
Pre-sort your beads by colour – it makes it much easier to create your designs.
Use tweezers to position the beads onto the pegboard more easily.
I ironed my coasters for longer than the instructions suggest, so they'd melt together more and bond together more strongly.
Have fun!
Now, I wonder which designs I should make next…