I'm so excited to have developed a new product line that I'll be launching soon: PlanetJune Enamel Pins! They'll be perfect to add to your jacket, your project bag, or to add to your pin collection. Looook what I made!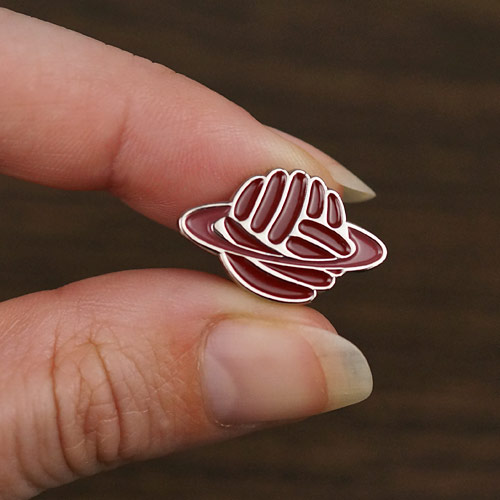 I love how stylish the PlanetJune logo looks in pin form with the shiny silver.
And I designed another pin based on my Turtle Beach pattern collection (awww, who can resist a precious baby sea turtle?)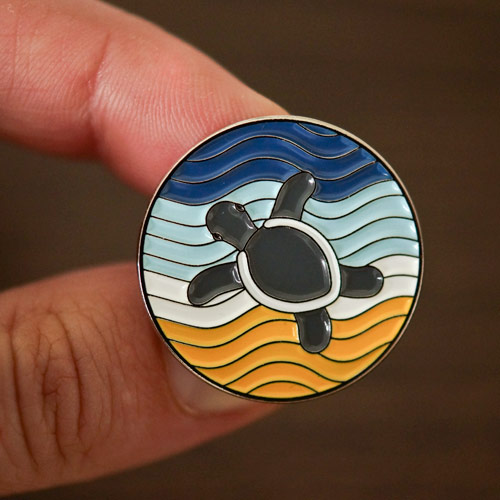 PlanetJune Pins – Coming Soon!
Would you like a PlanetJune pin or two? I'll be offering these special PJ pins as part of my upcoming Crochet Tools flash sale, so you can save on shipping by placing a single order for everything you need – including the classic tools, the new pins and more brand new products.
The Crochet Tools shop will only be open for a few days, and supplies are limited, so click here if you'd like me to send you an email as soon as the shop opens!
How to Make Custom Enamel Pins
In case you've been wondering how to create your own custom pin designs, I'll walk you through the process and my experience.
I ordered my pins from WizardPins, who made the whole process very straightforward. Although I had no idea what was involved in pin design before I started, the team were very responsive with answering my questions and helping me figure out what I needed.
Designing Your Pin
Enamel pins need a specific type of design – every area of colour needs to be separated by a thick line so the coloured enamel paints can be applied into the separate sections of the pin. The lines appear as metal outlines in the finished pin. A simple design is better, as fine details may be too small to be reproduced in the pin.
If you can draw your design as a vector (as I did) you can customize your design to look exactly the way you want it:
The strokes (outlines) – of any width you want – will all become your choice of silver, gold, copper or black-plated metal
The fills (areas) – in the colours you want – will become coloured enamel
But if all that sounds like gibberish to you, it's no problem – the WizardPins artists can take any artwork you provide – a drawing, a photo, or even a written description – and create a pin design from it at no extra charge. The turnaround time is fast, and they'll send you a digital mockup by email to approve. You can request changes as many times as you need until you're completely happy.
Although I didn't end up using their artists, I did try out the service – I sent over a photo to be converted to line art: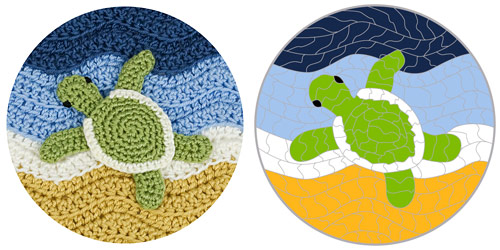 The artist was faithful to the photo I provided, but interpreted the crochet stitches with lots of wiggly lines (not at all what I had in mind!) and the turtle was far too wonky for my taste. I had originally asked for the turtle to be dark grey and for each colour to be a solid block, and I could have asked them to make those changes to the initial mockup – that's part of the full service they offer – but you can probably guess that I'm too much of a control freak to let anyone else draw my design for me… ?
Tip: Based on this experience, I'd suggest that if you're submitting artwork for a pin, try sending a sketch instead of a photo, so the artist will have a better idea of what you're looking for. They can easily turn a simple sketch into a colourful design for you.
I redrew my turtle beach design in Illustrator in my clean PlanetJune style, then submitted it and my logo to be converted to pins. Almost immediately, they sent me back PDF proofs to approve before we finalized the order.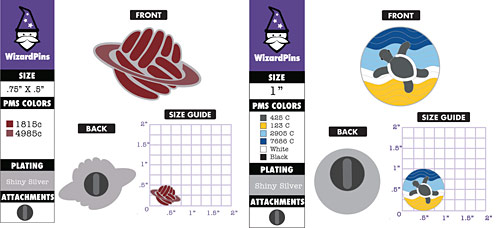 This time, the proofs looked perfect, so it was time to submit my order and wait for my pins to arrive!
Pin Manufacture and Delivery
Although WizardPins is a US-based company, the pins are printed in their factory in China, like almost all enamel pins. Their turnaround time is usually much faster than you'd imagine: only 2-3 weeks between placing an order and receiving your pins – that's pretty amazing!
I had a different experience, but it was just due to bad luck: I unfortunately chose to order at the worst possible time: just as my pins were due to be printed, the factory was forced to close due to the recent COVID shutdown in China…
As a result, I had to wait for 2 months for my pins to arrive, but that was nobody's fault, and WizardPins were great about it – they kept me informed whenever I asked about my order status, and sent me pics of my finished pins from the factory to tide me over while I waited for FedEx to resume international shipping from Shanghai.
And it was worth the wait! My designs have been brought to life in shiny metal and colourful enamel, and they look amazing!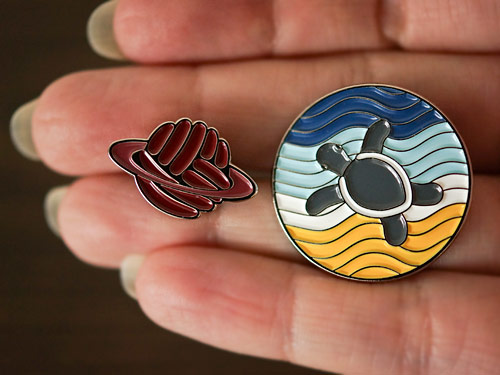 Aren't they wonderful? The quality is absolutely perfect – they are exactly what I'd hoped for.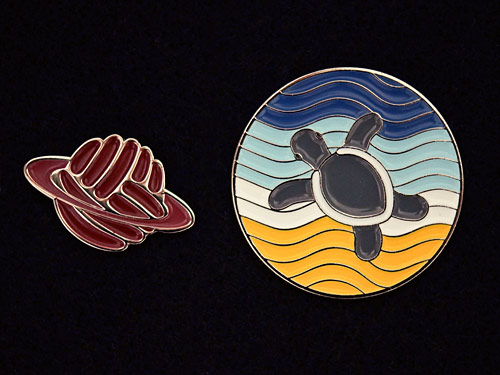 Thank you to WizardPins for this collaboration – I love these pins so much, and after seeing how well these turned out, I already have ideas for more PlanetJune pin designs!
PS – Don't forget to sign up to be first in line when the PlanetJune pins are available to purchase! ?