Crochet Tools
Please note that my PlanetJune-exclusive Crochet Tools have now been discontinued and are completely sold out. (For more details about my decision to close my Crochet Tools shop, please see my blog post announcement.)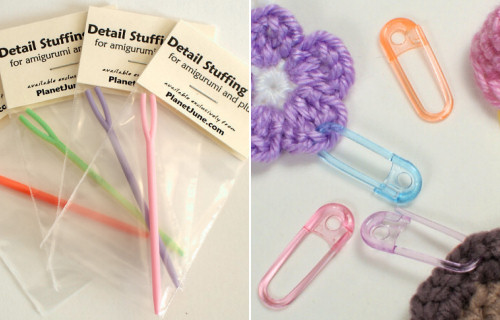 PlanetJune Detail Stuffing Tool Instructions
My Detail Stuffing Tool was available exclusively from PlanetJune.com. It lets you:
Get a grip on your stuffing
Stuff the tiniest pieces
Stuff right into the corners
To see it in action, please view this short video that demonstrates the benefits of the tool, and techniques for using it:
Get a grip on your stuffing: Fiberfill (especially the better quality ones) can be quite slippery, and if you try to use the end of your crochet hook or a chopstick to stuff, you'll find that the fibres just slide around the edge of the stick, and you end up poking a hole in the stuffing instead of pushing the stuffing into the hole! The Detail Stuffing Tool has two prongs that catch the fibres of the stuffing so it can't slip away as easily, and twisting the tool as you insert it spins the stuffing fibres into the piece with ease.
Stuff the tiniest pieces: The head of the Detail Stuffing Tool is small enough to fit inside the tiniest amigurumi part. The added bonus is that you can use it to add an extra bit of stuffing to a closed shape after you've finished crocheting (when you only have a 6 sc hole remaining to stitch closed) so you can stuff as firmly as you want without having to struggle to avoid catching the stuffing fibres while you crochet that last round.
Stuff right into the corners: The Detail Stuffing Tool also works really well to stuff tiny pieces for sewn plush toys. It can be really difficult to position the stuffing exactly where you want it to fill a tiny finger or arm or nose. By twirling the stuffing around the tool to make a firm blob of stuffing at the head of the tool, you can place the tool inside the tip of the piece, and then grip the stuffing from the outside as you withdraw the tool, so that the stuffing stays in place.