Crochet Tools
Please note that my PlanetJune-exclusive Crochet Tools and accessories are currently unavailable, due to my big move back home to Canada...
I anticipate being able to relaunch the tools some time in Spring 2018, but can't be more precise than that right now!

If you'd like to be notified when PlanetJune crochet tools are available to ship again, please sign up for the one-off notification email.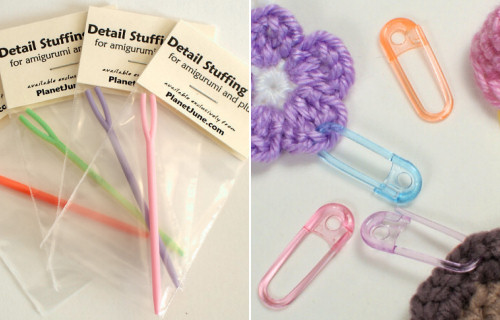 PlanetJune Crochet Tool Info
Detail Stuffing Tool
My Detail Stuffing Tool is an essential tool, available exclusively from PlanetJune.com, that lets you:
Get a grip on your stuffing
Stuff the tiniest pieces
Stuff right into the corners
Whether you crochet, knit, or sew stuffed toys or amigurumi, you need a Detail Stuffing Tool!
Stitch Markers for Crochet
My plastic Stitch Markers for crocheters look like cute coilless safety pins and come in a range of translucent colours. Each set of 5 contains one marker in each of the following translucent colours: pink, orange, blue, purple, and green.
They are 3cm (1.2") long and open and close like a real safety pin, so you can be sure that your marker won't fall out in transit. The plastic tip is rounded so it won't split your yarn. And at these prices, it won't be the end of the world if you lose one!