Baby Sea Turtle Collection includes four original crochet amigurumi patterns: Baby Sea Turtle, Hatching Sea Turtle, Swimming Turtle, and Turtle Egg, by June Gilbank.
Make a family of life-sized baby sea turtle hatchlings, together with about-to-hatch turtle eggs and an adorable baby turtle who is just emerging from his egg. Plus a bonus swimming turtle to stitch to the dark blue area of an ocean blanket, so it looks like the back half of its shell is submerged beneath the deeper water. Make your turtles realistic in greys, browns, or greens, or use any colour combination you want to make a sweet toy in any pair of colours!
Yarn: worsted weight yarn (the pictured samples use Red Heart Soft yarn)
Hook: US E / 3.5mm
Size: Sea Turtle: approx 4.5-5" (11.5-13cm) long, depending on how you position the flippers. Egg: approx 2.5" (6.5cm) diameter.
Eyes: 9mm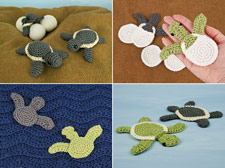 Note: My amigurumi and applique Baby Sea Turtle patterns closely match in size, shape and appearance, so you can mix and match them in a project. Take advantage of the savings when you buy this pattern as part of the Baby Sea Turtle multipack!

See projects made from this pattern here:
The Turtle Beach Collection
This pattern is part of my Turtle Beach Collection - you can mix and match patterns within the collection to make your own custom blanket.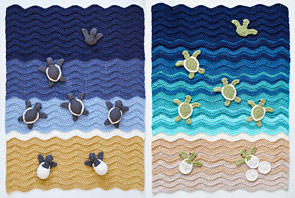 Mix and match colour schemes and stripe patterns with the Classic Blue and Teal Ombré blankets.
Add custom details (an edging and puffy 3D seafoam effect) with the Seafoam & Edging Expansion Pack (or the original donationware blanket pattern).
Add any combination of the original 3D stuffed baby sea turtles, the new flat appliqué turtles, and puffy or flat starfish.
Tip: For the best price, buy the multipacks of both blanket patterns and both sea turtle options!
See the entire Turtle Beach crochet pattern collection here >>