An original crochet amigurumi Siamese Cat pattern from the AmiCats range by June Gilbank. This pattern can be used to make any similar-looking cat breed, for example Siamese, Tonkinese, Balinese, Colorpoint Shorthair, Thai.
Yarn: worsted weight yarn in a pair of point colours, e.g. white or cream and mid-dark brown or grey
Hook: US E / 3.5mm
Additional info: This pattern includes 5 pages of bonus info in 3 appendices:
Two-page appendices for both right- and left-handers that clearly explain my innovative method for joining the legs and body while you crochet so they sit at exactly the right angle in the finished cat.
Bonus instructions to crochet the (optional) pictured nose from crochet thread or embroidery floss and a 1.25mm/size 9 steel hook. Instructions for making a simple felt or embroidered nose are also given.
This is a modular pattern: save paper and ink by printing only the appendices you need (crocheted nose; right-handed or left-handed assembly guide, or neither).
Size: approx 5.5"/14cm tall
Eye size: 9mm (Although I used black eyes for my sample cats, I purposely chose the size to work with 9mm eyes - the most common size of cat 'safety' eyes!)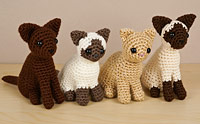 Note: Take advantage of the savings when you buy this pattern as part of the complete AmiCats Collection 2!
See projects made from this pattern here: