What is an Expansion Pack?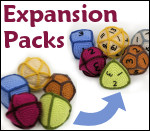 An Expansion Pack is an add-on to an existing PlanetJune pattern.
The Expansion Pack lets you modify or add to the original pattern to create something else.
You cannot use the Expansion Pack alone – you must also purchase the original pattern in order to be able to complete the pictured items in the Expansion Pack pattern.
If you've already bought the base pattern, you can buy Expansion Packs individually from my shop. If not, you can save a little more money by buying the patterns together in one of the following ways:
Select the Expansion Pack(s) you want as add-on(s) before you add the base pattern to your shopping cart.
Buy the Multipack Deal listing (containing base pattern and expansion pack(s)).
(Note: The price is the same whichever of these options you choose – it just gives you more ways to find which patterns have Expansion Pack options!)
---
Related Questions:
---
All FAQ Categories: