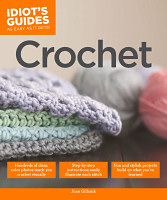 This is the last day of my week of posts telling you all about my new book, Idiot's Guides: Crochet, which will be released in 4 days, on 5th August.
For my main intro to the book, how to order your copy, and the other posts in this series, please see my main IG: Crochet info page.
Following on from yesterday's post, here are my insights into the designs that make up the the second half of the pattern gallery at the end of my book…
Rolling Waves Blanket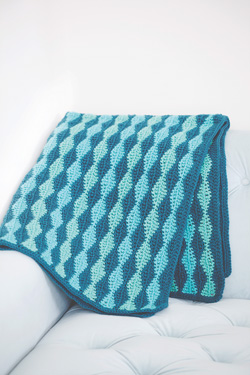 I really enjoyed crocheting this blanket – the hardest part was knowing how long I'd have to wait to keep it looking nice and neat before Maui and I could snuggle up in it! This design has a beautiful stitch pattern but it's easy to memorise. You only need to change colour once every 2 rows, so you won't have hundreds of ends to weave in.
It's easy to customize this design to make any size of blanket – from a baby blanket to an afghan for a king-sized bed – or even to crochet just the first 8 rows and you have a lovely wave pattern scarf.
I named this blanket Rolling Waves for the stitch pattern, and the colour choices for my sample support the name, but the wave pattern would look equally lovely in a non-aquatic colour scheme – just choose any main colour (the dark teal in my sample) and add one, two or more contrast colours. Pastels would make a sweet baby blanket, or how about a bold rainbow of different coloured wavy stripes against a black background? I can't wait to see the different colour combos when people start working on this blanket.

Solid Stripes Bag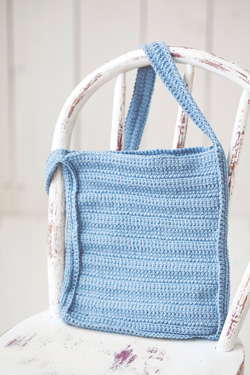 This design was a challenge for me – I'm really not keen on most crocheted bags, as they almost always need to be lined to be useful, and the straps stretch out as soon as you put anything in them (unless you add a fabric backing to the straps too). Another challenge I set out to solve with my design!
Would you believe the lovely textured stripes of this bag are created with only one stitch? The linked stitch pattern has no holes, so you don't need to line it with fabric, and small items such as pens (and crochet hooks!) won't fall out. The tall stitches work up quickly, and the finished bag is large enough to be useful without taking forever to make. I was thinking of a bag for carrying library books when I made my sample, although of course you can use my modification notes to make a bag of any size.
My clever strap design creates an inelastic strap that won't stretch out, and, possibly the best part of all: this design is almost no-sew – you just need a few stitches to join the ends of the strap together, and all the rest of the assembly is crocheted. I've included assembly diagrams to make that process even simpler.
Double Diagonals Shawl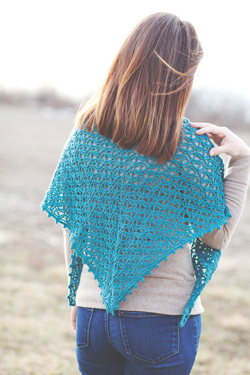 This may be my favourite pattern in the book. I thought I'd nailed the design several times, but then came up with a tweak to make it even better and had to redo the whole thing with the improved stitch pattern, over and over again. But it was worth every frogging and redoing – the final stitch pattern is infinitely prettier than my original concept! It looks to me a little like flowers and a little like snowflakes, but, either way, the parallel diagonal stitches throughout (that give this design its name) are uniquely beautiful.
The shawl is a shallow triangular shape, which means it'll work up more quickly than a standard right-angled triangular shawl. As it's worked from the bottom up, you can just keep crocheting until you like the size – or until you run out of yarn! A subtle picot edging makes the perfect finishing touch for this stunning shawl.
Front-and-Back Hat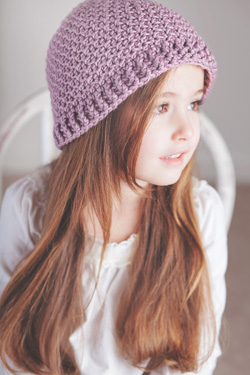 My editors were pretty insistent that I should design a hat for this book, but after browsing pages and pages of hat designs on Ravelry, I realised that
I just don't like crocheted hats
… I don't like the bulls-eye shape the rows make on the top of the head; I don't like the helmet-like structure of a single crochet hat, or the gappiness of a hat made with taller stitches; I
really
don't like hats with a plain top and a fancy stitch pattern that only starts on the sides.
So I set out to design a hat that avoided everything I don't like about crocheted hats – quite a challenge as I'm so picky! Finally, I came up with a seamless stitch pattern that gives a subtle all-over texture, with no obvious rows, and no transition between the increase part at the top of the hat and the straight sides. Even the increases are pretty much invisible!
I love the texture of this hat – it gives the hat a beautiful appearance and a nice stretch but without leaving any gaps for the wind to sneak through. The 'Front-and-Back' name refers to the trick that makes this hat unique – a combination of front and back loop only stitches (which are mirrored in the front and back post stitches in the ribbing).
I designed this hat in 3 sizes (child, adult small and adult large), but I've also included a recipe that works by size, so you can make this hat with any yarn and any gauge, and end up with a hat that fits anyone beautifully. Note: the beautiful girl in this photo is wearing the adult small size hat, which is why it's a little large on her.
Front-and-Back Fingerless Mitts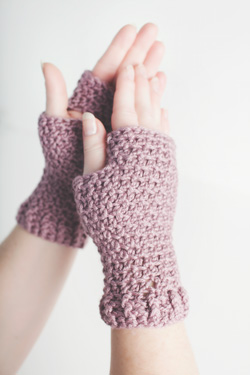 And now to the final pattern. If your book has one hat and one set of fingerless mitts, it just makes sense to design the patterns so you can crochet a matching set!
I was originally going to just make basic wristwarmers with a slit for the thumb, but I decided it's important for your thumb joint to be warm too, so I set out to design a shaped, fitted, no-sew fingerless mitt where the thumb shaping doesn't disrupt the stitch pattern. I designed these mitts to be long enough to cover your knuckles and keep you cosy, or of course you could add extra rows above or below the thumb gusset to make your mitts longer still.
If you've already made the hat, the mitts are a natural progression – slightly more complex due to the thumb gusset shaping, but you'll still find it easy, as it uses the same front-and-back stitch patterns you used for the hat.
I've supplied the mitts pattern in 2 sizes that should cover pretty much all women's hand sizes, and – as I mention in the pattern – you can modify it further by intentionally not meeting gauge, to make your mitts a little smaller or bigger, as necessary.
Note: all images reprinted with permission, Alpha Books, a member of DK.
---
Intrigued Yet?
So that's it – the end of the week of posts that tell you all about my new book, Idiot's Guides: Crochet. I hope you've found these posts interesting and that they've tempted you to take a look at the book once it's released on August 5th (assuming you're not one of the lucky few who amazon shipped to early!)
I put my heart and soul into making this book the best it could be, and I really hope you'll enjoy it and find it useful, and different from every other crochet book out there.
Buy it! If you haven't bought IG: Crochet yet, and would like to, please use my amazon links to buy either the paperback or Kindle version – you'll save some money vs buying it in a bookstore, and I'll make a few extra pennies too.
Review it! If you've already bought it and love it, please consider writing a review on amazon and telling the world why you think it's a special book. Thank you
Crochet-Along With Us!
And to celebrate the launch of IG: Crochet, today we're starting a 2-month Book-Along crochet-along (CAL) in the PlanetJune Ravelry group. That gives you plenty of time to try out a project – or several – from IG: Crochet, discuss yarns and colour choices, ask for advice, share your photos of your projects, and enjoy seeing what everyone else is making and how the different patterns look in different yarns and colours.
I'll be there too, of course, if you have questions or want my opinion on anything. It's going to be great, and I really hope you'll join us for it! If you're new to Ravelry, you'll have to sign up for a free membership, but I promise you'll love being a part of our friendly, helpful PlanetJune community. I hope to see you there!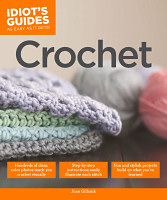 This is Day 4 of my week of posts telling you all about my new book, Idiot's Guides: Crochet, which will be released in 5 days, on 5th August.
For my main intro to the book, how to order your copy, and the other posts in this series, please see my main IG: Crochet info page.
To round out the book, I've designed a range of stylish original accessories and home decor patterns in a variety of simple, textured and lacy stitches. All the patterns include stitch diagrams and schematics where needed, and give modification tips if you want to use a different gauge or make a different size.
I've arranged the patterns in approximate order of difficulty, so you'll learn more as you make each one, using the stitches and techniques I taught you earlier in the book.
Today and tomorrow, I'll give you a little insight into the thought processes behind my designs and what makes each one special. Here's Part 1…
Flecked Scarf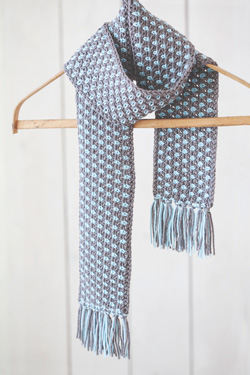 I love this design! I spent ages fiddling around with swatches to develop this stitch pattern that cleverly adds flecks of the contrast colour in an offset pattern, while each row of the scarf is crocheted in only one colour, so there's no colour changing to worry about!
Can it get any better? Yes, it can: the fringe has the dual purpose of incorporating all the yarn ends, so there's no weaving in either!
A simple and fun pattern with a stylish and impressive end result for not much work – isn't that the best kind of pattern?!
Cozy Cowl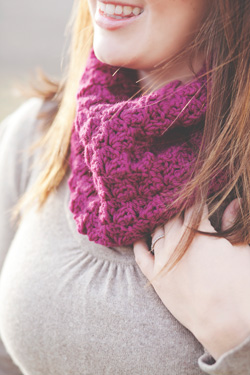 This cowl should be a go-to pattern for quick gifts. I came up with this stitch pattern that adds texture without too much chunky stiffness – getting a nice drape is always a concern when designing crocheted accessories.
As this cowl is worked flat, you have the freedom to keep crocheting until you like the feel of it wrapped around your neck. You can keep going to turn it into a long scarf, or even add buttons to make it a button-up cowl – there are large enough holes between the stitches that you won't need to make buttonholes.
The best part for me is the ends: if you choose not to join the cowl into a loop, you get a lovely wiggly line along each end – no need to add an edging! But if you do join it as I show in the pattern, I've designed the wiggles to mesh together perfectly, so your seam will be practically invisible.
Phone or Tablet Slipcover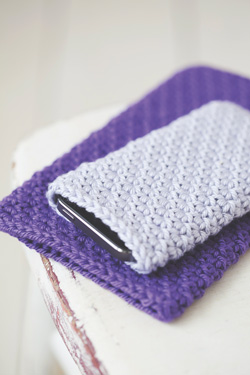 This slipcover will let you throw your device into your bag without worrying about it getting scratched. It's easy to customise the pattern to fit any size of portable electronic device, there are no fasteners to grapple with, and the slim fit means you can travel light without carrying a bulky case.
I came up with a simple but beautiful solid, cushioning stitch pattern that will protect your devices without looking boring. I've put this design through its paces: my phone has been thrown into my handbag (in my original prototype of the phone case) every day for over a year and is completely unscathed.
Note: The phone used in this photo is slightly smaller than the one I crocheted the case for, so don't worry – follow my instructions for your own devices and the slipcover will be a perfect snug fit.
Handy Baskets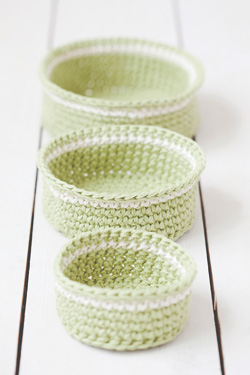 Sometimes single crochet really is the best choice – and not just for amigurumi! It makes a solid, sturdy fabric that's perfect for more dimensional items like baskets.
But, to keep my design original and interesting, I gave my set of 3 nesting baskets a few clever twists: they are seamless, with a sharp, crisp corner around the bottom, and I developed an amazing but simple new invisible join for single row stripes, which makes the contrast stripe and the top edge look totally seamless! They are worked with 2 strands of yarn to give a thick, sturdy result.
Placemat and Coaster Set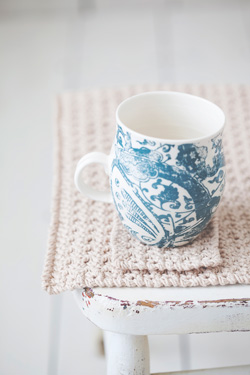 I wanted a solid but textured stitch pattern for my placemat and coaster set: too open or too textured a pattern leaves your mug in danger of tipping over! I played with all sorts of stitch combinations and swatched until I found the perfect match, with a simple but interesting looking stitch pattern, and a little (but not too much!) texture. The reverse single crochet edging adds the perfect finishing touch.
I chose a natural-coloured linen-blend yarn for my samples, for a natural, rustic feel, but standard kitchen cotton would be a perfect choice for yours. Of course you can use any colour (or stripes of colour, alternating every 1 or 2 rows) to match the style of your dining room. Eagle-eyed readers may have spotted one of my coasters in use under my mug of tea on my new homepage

---
And, with that, we're halfway through the
Gallery of Patterns
– what do you think so far? Stay tuned for the final 5 patterns, in tomorrow's post…
Note: all images reprinted with permission, Alpha Books, a member of DK.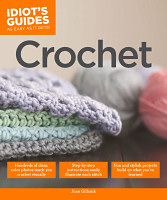 This is Day 3 of my week of posts telling you all about my new book, Idiot's Guides: Crochet, which will be released in 6 days, on 5th August.
For my main intro to the book, how to order your copy, and the other posts in this series, please see my main IG: Crochet info page.
I've included two stitch gallery chapters in IG: Crochet, plus a chapter on motifs.
Stitch Galleries
The beauty of crochet is that you can create a huge variety of stitch patterns from a few simple stitches. The Easy Stitch Gallery (Chapter 10) shows you how to create completely different effects using only the most basic stitches: chain, single crochet, half double crochet, and double crochet.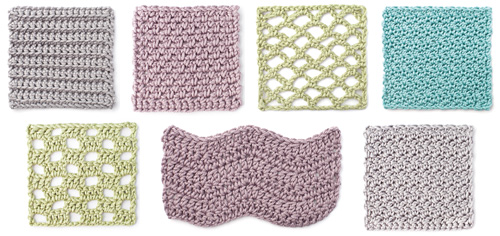 Easy Stitch Gallery patterns
The Intermediate Stitch Gallery (Chapter 15) demonstrates how you can combine all the crochet stitches you've learnt in the previous chapters to create a huge variety of decorative effects, from lacy, open stitch patterns, to densely textured patterns, and everything in between.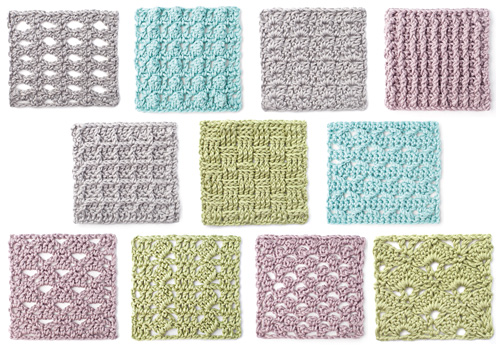 Intermediate Stitch Gallery patterns
All my stitch patterns in both chapters include a clear swatch photo, full written instructions, and a charted stitch diagram. If you follow my advice on swatching (see Gauge, p64-67) to make sure you select a hook size that will work with your yarn to produce a fabric you love, you can choose any of these stitch patterns to easily make any rectangular shaped object, such as a dishcloth, a scarf, or a blanket – just pick a stitch pattern and decide how big you want to make it, then start crocheting!
Motifs
And I've also included a chapter on Motifs (Chapter 13), with useful info and tips for making perfect motifs, and a selection of 5 patterns: the classic granny square, a solid variant on a granny square, a circle-in-square design, and a granny triangle and hexagon. You'd be amazed how many different formulae there are for making motifs like these, and I used a combination of maths and lots of prototyping to come up with what I consider to be the best patterns for each of these designs, that give the flattest and straightest-edged results, even before blocking.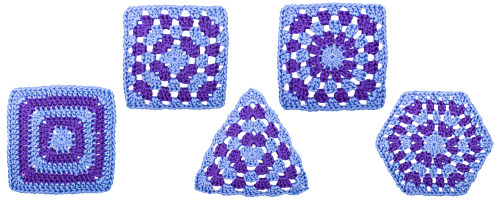 My motif patterns
I alternated between two colours for the rounds in my motifs, to make the pattern as clear as possible for you to follow. All my motif patterns include full round-by-round text instructions (with photos of each round, for those new to motif-making), a charted stitch diagram, and a general pattern for extending the motif to be as large as you want.
And then you can choose any of the joins from the several options I demonstrate in Finishing Techniques (Chapter 9 – my favourite is the Flat Slip-Stitched Seam) to crochet or stitch your motifs together into a blanket, bag, scarf, or whatever else you want!
---
Check back tomorrow, when I'll show you the first half of the
Gallery of Patterns
I designed exclusively for this book!
Note: all images reprinted with permission, Alpha Books, a member of DK.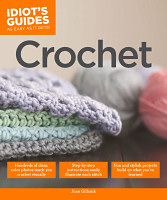 This is Day 2 of my week of posts telling you all about my new book, Idiot's Guides: Crochet, which will be released in 7 days, on 5th August.
For my main intro to the book, how to order your copy, and the other posts in this series, please see my main IG: Crochet info page.
Tutorials
Making really clear, easy to follow tutorials is something I've been perfecting for years, so I knew exactly what I wanted for the tutorials in this book:
Lots of photos, so you're walked through every stitch step-by-step.
Ultra-close-up full-colour photos with relevant loops/stitches highlighted so you can really see exactly what you're looking at.
Arrows that show exactly where to put your hook and point out any features to watch out for.
Extra tips and tricks to make your crocheting life easier.
In short, I made this experience as close to one of my video tutorials as I could manage in book form, so you can see exactly what my hook is doing at every stage of each stitch.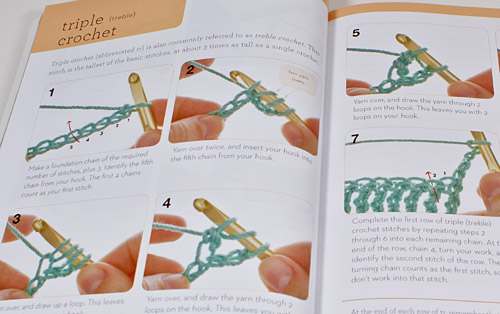 My instructions are detailed and complete, and the hundreds of photos are in full colour, clear and close-up, so a beginner with no prior crochet knowledge can watch my fingers and replicate my movements as I walk you, step-by-step, through every stage of learning to crochet.
I've covered everything from the very basics that most books gloss over in a sentence (e.g. How exactly do you 'yarn over'? What does 'draw up a loop' really mean?) in a series of chapters that build your skills gradually until you're ready to learn a variety of more advanced stitches and techniques to help you perfect your work (e.g. How do you 'weave in ends'? What is 'blocking' and how and when should you do it?).
Practice Projects
Throughout the chapters I've included a selection of practice projects – original patterns that let you try out your new skills and make something pretty in the process. Your first projects shouldn't have to be embarrassing or dull!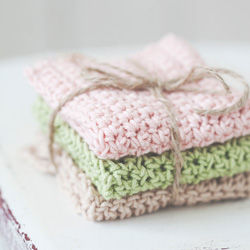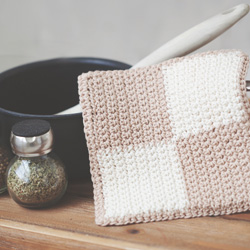 Three Simple Washcloths – a perfect first project for the novice crocheter.
Colorblock Potholder – get to grips with colour changes and basic edgings.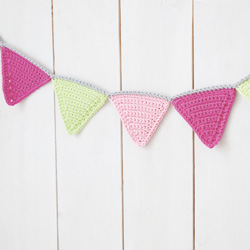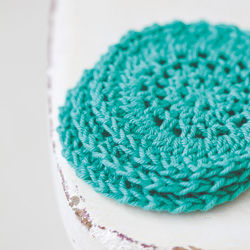 Triangle Bunting – make top-down and bottom-up triangles that form exactly the same final shape, so you can practice both increases and decreases and make a pretty decoration in the process.
Circular Coasters – try out working in the round and using a combination of different basic crochet stitches in the same pattern.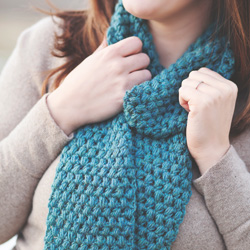 Pretty Headband – make a chainless foundation and try your hand at reading a charted stitch diagram.
Puff Stitch Scarf – an introduction to combination stitches, and perfecting those tricky puffs!
Of course, even if you're not a crochet newbie, these beginner-friendly projects are also pretty enough to be given as gifts, or just to make for yourself

Tip: If you're beyond absolute beginner level, I'd recommend you add a little more pizzazz to the most basic project – the washcloths – by adding my Basic Edging (p50-51), or any of the other edgings from Edgings & Adornments (Chapter 14).
---
I'm only just getting started with showing you what I've included in this book – I told you it was epic! In tomorrow's post, we'll look at the
Stitch Galleries and Motifs
chapters, and then on Thursday and Friday I'll finally get to show you my patterns…
Note: all images reprinted with permission, Alpha Books, a member of DK.
This is Day 1 of my week of posts telling you all about my new book, Idiot's Guides: Crochet, which will be released in 8 days, on 5th August. For my main intro to the book, how to order your copy, and the other posts in this series, please see my main IG: Crochet info page.
Overview
Idiot's Guides: Crochet was an ambitious project, as I had so much valuable content to include. The end result is 264 pages and 750g (that's over 1.5lbs!) of crochet techniques and beautiful patterns. To start this week, I thought I'd give you a taster of why this book is unique and special…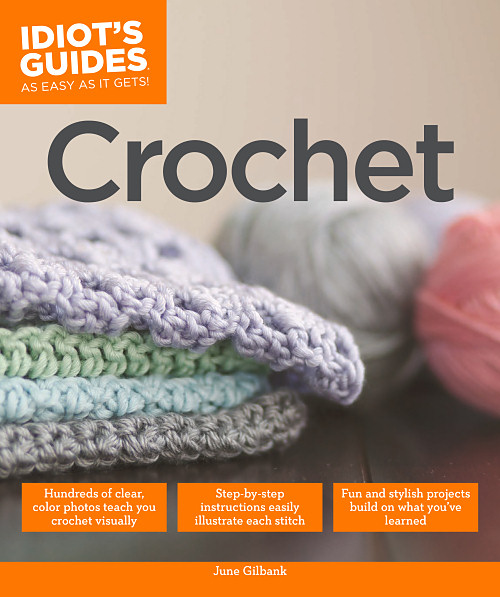 Tutorials
If you've bought my Complete Idiot's Guide to Amigurumi, you'll know I like to cover every detail in my books, so you'll have a valuable reference source you'll consult over and over again as you want to learn about new techniques or refresh your memory on something you haven't done for a while. But, in this book, I've been able to go into much more detail, starting from the very basics of crocheting, and creating a clear, easy-to-follow, comprehensive guidebook, with hundreds of full-colour close-up photos.
I'll share more about the tutorials in tomorrow's post.
Tips and Tricks
If you're already an intermediate or advanced-level crocheter, please don't think there's nothing in this book for you! I've included all my helpful tips and tricks throughout the book – I bet you'll find at least something you didn't already know in there…
Patterns
And my patterns are definitely not only for beginners. Although they are all easy to intermediate level, I didn't let that stop me from creating beautiful, elegant designs for every project. You'll also find all the pattern extras that I always include in PlanetJune Accessories designs: full text instructions, charted stitch diagrams, schematics, and helpful resizing tips so you can customise your project with my guidance.
I'll reveal details of all my patterns on Thursday and Friday.
Modifications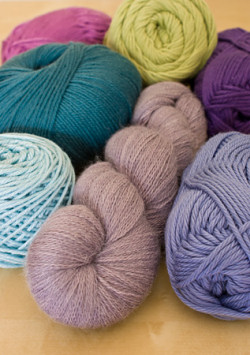 I strongly feel that crochet patterns are not just there to be followed to the letter: a good pattern should be a jumping-off point, and crocheters should be emboldened to change colours, finished size, yarn type and thickness, and know you can still end up with beautiful results and have created something uniquely your own, using a yarn you really love.
I've seen the lovely results of this time and again with the projects people have made from my PJ Accessories designs, and yet most patterns are written so rigidly, without inviting the possibility of making your own tweaks. In IG: Crochet I encourage this kind of customisation, and include tips with every pattern as starting points for making your own modifications.
(Next week, I'll be showing you some projects I've made by modifying the book patterns, so you can see what I mean!)
Photography
This book was a whole new experience for me, as it had 2 photographers: I photographed my hands and my test samples for all the tutorials and technical photos, but all the stylish photos of my finished projects and the appealing photos on each chapter opener page were taken by the talented photographer Becky Batchelor (who also did the graphic design and layout).
This means you get the best of both worlds: my clear, close-up detailed photos wherever I'm teaching you something, and Becky's gorgeous eye-candy photos everywhere else. They show off my designs beautifully and make the book a pleasure to flip through and enjoy visually.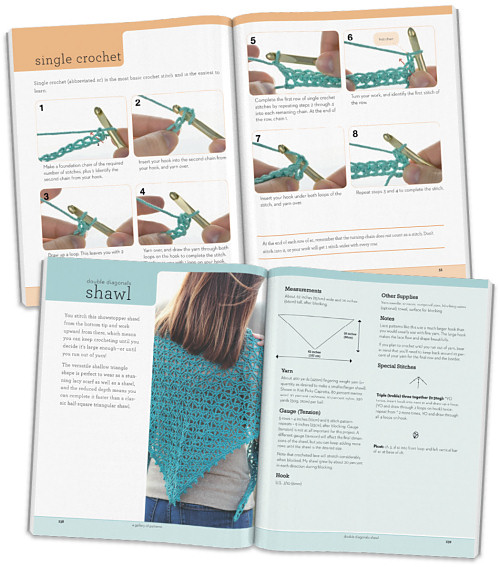 Spot the difference? The top spread has my close-up technical photos and the bottom spread includes one of Becky's lovely photos.
---
Throughout the rest of this week, as a countdown to the release date of August 5th, I'll be giving you more detail about the different aspects of IG: Crochet:
Tuesday: Tutorials & Practice Projects
Wednesday: Stitch Galleries & Motifs
Thursday: Patterns (part 1)
Friday: Patterns (part 2)
Stay tuned!
Note: cover images reprinted with permission, Alpha Books, a member of DK.
In a happy coincidence, what day could be more appropriate to begin my planned alien invasion than today, Independence Day?!
PlanetJune Aliens give a nod to the classic Roswell grey aliens, but with a cute PlanetJune twist: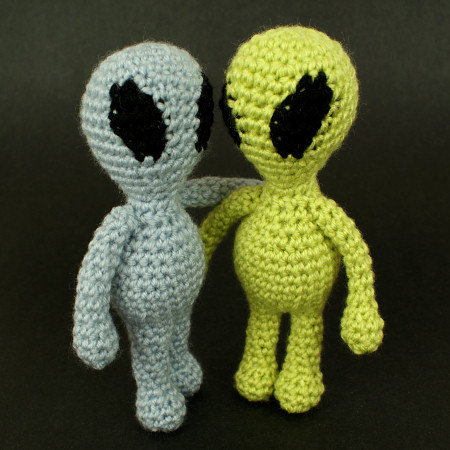 Of course my aliens required the classic huge eyes, oversized heads, and enigmatic expressions, but I also had some fun adding my own personal touches. Aliens like these are usually depicted as very slender and elongated, but the friendly aliens who live on PlanetJune are carefully shaped to have tubby little tummies and bums, and are completely benign and non-threatening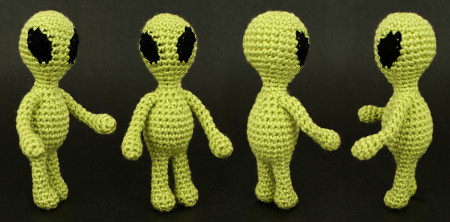 PlanetJune aliens are cute from all angles
Aliens has a few rounds of detailed colourwork to make the beautifully-shaped eyes, but after that it's fast and easy all the way. The body and limbs work up extremely quickly, and this pattern has almost no sewing, so, once you get past the eyes, you can finish an alien in no time! If I didn't have other commitments, I'd be tempted to whip up a much larger family of aliens, all in different colours….
My Aliens pattern includes 2 options: a fun poseable version with wired limbs (my green alien, below), and a more child-friendly version (my blue alien, below) with either thread-jointed arms that can swing at the shoulder or firmly attached arms (probably a safer choice for teething babies and kids who are a bit rough with their toys!). The pattern includes full instructions for all the options.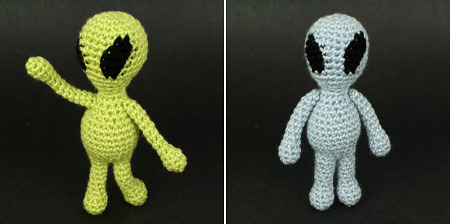 As you can see, even the most enigmatic aliens can develop their own distinct personalities
Aliens is a new addition to the small PlanetJune Mythical pattern range, so I designed them to perfectly match the scale of my Yeti & Bigfoot pattern: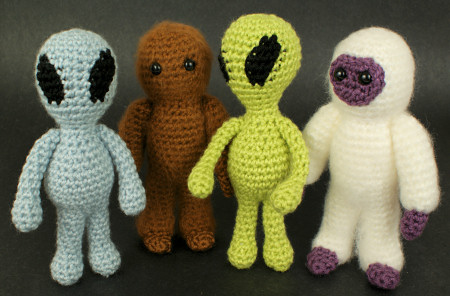 It's a mythical meet-up! Green likes to be the star of the show, and Bigfoot looks as camera-shy as always…
If you can't resist the lure of these enigmatic aliens, you'll find my Aliens pattern as a new addition to the Prehistoric & Mythical category of the PlanetJune shop. (And then you can make and share your mythical creatures as part of this month's PJ Fiction & Fantasy CAL!)
Or, if you're not ready to buy just yet, add Aliens to your queue or favourites on Ravelry, so you don't forget about them:
Unlike in the movie, today we – together with our new alien friends – can celebrate our Independence Day.

Don't you know someone who'd appreciate having a cute alien or two in their life? Just looking at these aliens makes me smile, which is exactly what I need right now. I hope they have the same effect on you: let the alien invasion commence!
This is one of those ideas that came to me on a whim and then I couldn't possibly not make it! There are flocks of wild guinea fowl around Cape Town, and I see, or at least hear, them several times a week. It's hilarious to watch a group of empty-headed guinea fowl following each other around, especially when one starts to run and they all follow, bobbing along at surprising speed!
Guinea fowl have beautiful spotted feathers, a plump, shapely body, and a colourful featherless face – the perfect combination of eye-catching colouring and exaggerated appearance to form a bold, stylized design:
Inspiration
I didn't think a bird with such detailed markings would be something I could reproduce for a crochet pattern, but then I saw the colourful, stylized guinea fowl designs on ceramics by local artist Dragana Jevtovic. It suddenly occurred to me that I could use a similar concept in my own work, by also representing the tiny guinea fowl spots on a larger scale. With that thought, an impossibly detailed surface pattern became perfect for amigurumi. This could be the start of new explorations of colour and pattern for me; I'm so happy with the eye-catching result of this first design!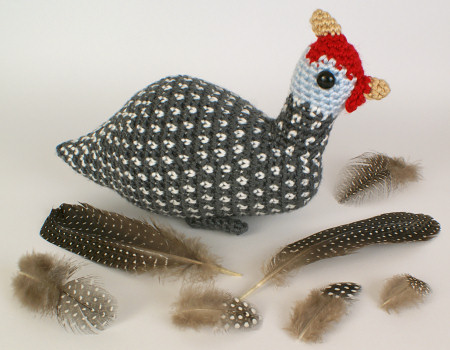 I like to pick up guinea fowl feathers when I see nice ones like these; they're too pretty to leave on the ground.
Guinea Fowl fun facts
Guinea fowl (aka guineafowl or guineahens) are found in the wild throughout Africa south of the Sahara desert, but they have also been domesticated.
There are several species of guinea fowl, but the most recognisable (and the one on which I based my design) is the helmeted guinea fowl.
Guinea fowl make excellent farm 'watchdogs', as they squawk loudly whenever potential danger approaches, sending all the chickens running to safety!
They eat insects and ticks as well as seed, so domestic guinea fowl are handy to keep around the garden for pest control.
Guinea fowl can fly, but prefer to run from danger. At night, they fly up into a tree to roost.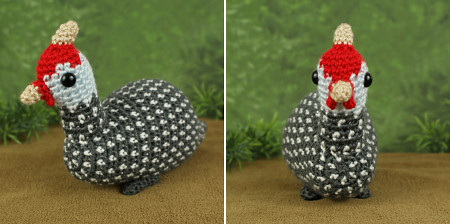 About this pattern
As well as a lovely ornamental amigurumi, a guinea fowl would make a perfect toy, with its large cuddly body, and bright colours and patterning. Don't be intimidated by the combination of shaping and frequent colour changes – I carefully designed this pattern to have separate shaping rounds and colour changing rounds, so you never have to worry about both at once! And, when you're making the spots, the other yarn is always carried, so there are no knots to tie and no ends to weave in. It's surprisingly simple, and very satisfying to see the beautiful body shape come together.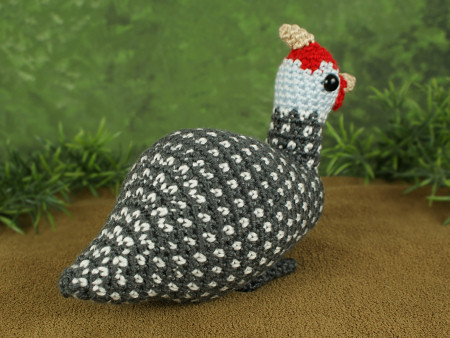 If you'd like to make a guinea fowl (or a whole flock!), you'll find my Guinea Fowl pattern in the new Birds category of the PlanetJune shop.
Or, if you're not ready to buy just yet, add Guinea Fowl to your queue or favourites on Ravelry, so you don't forget about it:
I hope you'll enjoy this design as much as I enjoyed creating it! Please let me know what you think in the comments

It's taken a while to get to this point, but my Meerkat crochet pattern is finally ready to release!
Meerkat Fun Facts
Meerkats live in southern Africa and are related to mongooses.
They live in clans of about 20 in large underground burrows.
They primarily eat insects but also munch on scorpions (they bite off the poisonous sting first).
One meerkat always stands guard to look for danger such as eagles and jackals while the others forage for food.
Their dark eye patches act like sunglasses to protect their eyes from the strong desert sun!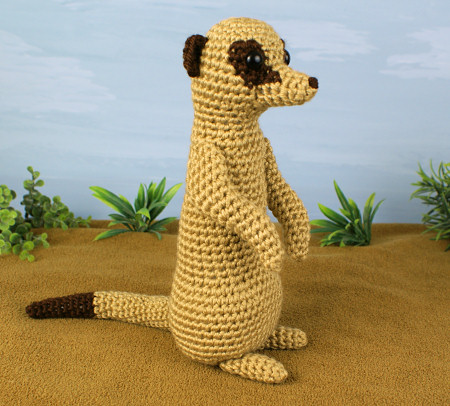 Amigurumi meerkat reporting for guard duty!
What Makes a Good Cover Photo?
As I've been talking about my process with this design (see the Design Reports #1, #2, #3 and #4), I thought I'd give you one last glimpse into what goes into a PlanetJune pattern: the cover photography.
My pattern was ready before the end of April, and all that was left was to take the cover photos. I had a great plan to take them while my Mum was visiting: we'd be passing through all sorts of natural African landscapes, so I'd take my camera and meerkat with me and take his photos on location in his natural environment!
We picked a day forecast for intermittent clouds and set out, only to find non-stop brilliant sunshine all day, which was great for Mum on her holiday – we had a lovely day relaxing in the sunshine and admiring the views – but not quite right for my cover shoot: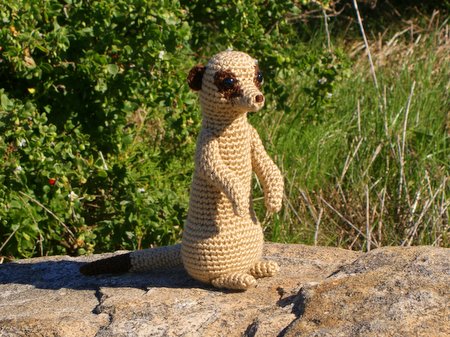 Full sun means deep shadows, and that's not what you need for cover photos! Although appealing photos play a critical part in selling a design, it's very important that you, the potential customer, can clearly see exactly what you're trying to make. A set of dull studio photos where you can look at the meerkat from every angle is more useful than a stunningly artistic nature photoshoot where you can't really see the meerkat well. In these photos, the eye patches are overshadowed by actual shadow, the arms cast distracting dark shadows on the body, and the tail is all but invisible in deep shade.
I tried again in a different spot, but the sun was unrelenting (although I still think this photo is really cute!):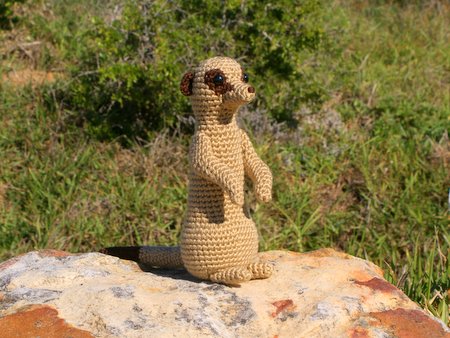 So my pattern was stalled until Mum had gone back home and I could head back to my studio to recreate the Meerkat's natural environment, PlanetJune-style.
I'm so glad I gave myself permission to drop the deadlines with my pattern commissions – I really wouldn't have been happy to release the pattern with unhelpful cover photos, and I think taking the extra time at every stage of this design and pattern-creation process has really paid off. The final photos may not have the realism of the location shoot, but you can appreciate the meerkat's cuteness much more with this set of photos, don't you think?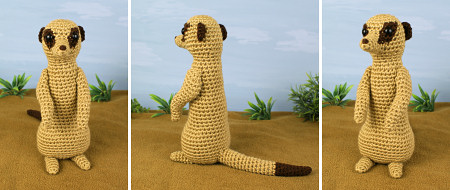 If you were one of my patient patrons who commissioned this pattern, the pattern is, at last, ready for you to download from your PlanetJune account – thank you!
For everyone else, don't you think you need a meerkat to watch over you while you work? Buy the Meerkat pattern from the PlanetJune shop and you can crochet your very own meerkat sentry!
Or, if you're not ready to buy just yet, add Meerkat to your queue or favourites on Ravelry, so you don't forget about it:
I hope you like my Meerkat – getting to this point has been quite a journey, hasn't it?!
---
I'll be taking a short break before I begin my next commission. Life keeps throwing unexpected challenges at me, and illness and worry make everything a struggle. As I said in my Year in Review plan, I need some time with absolutely no commitments to escape this whirlpool of stress and ill-health, then I'll have the energy to do justice to my Camel commission! I've been looking forward to making my camel for a very long time, and I still am – I just need a little space to breathe first

I've been sharing my process as I design my amigurumi Meerkat crochet pattern – hope you find this behind-the-scenes journey through what goes into a PlanetJune design interesting! To catch up, see:
- Part 1: Research, Shape, Colour and Sketch
- Part 2: Construction Decisions
- Part 3: Making The Head
Last time, I'd figured out the perfect colour changes for the head, and was ready for the final stage: finishing the rest of the head and designing the body, limbs and tail…
Part 4: Making the Body
I'm not sure if it's because of the psychological aspect of showing you my progress as I go, or just something about the meerkat itself, but this design is proving to be really slow going. I've been struggling with proportion and had to draw myself a life-size reference sketch – I think it's because meerkats are so long and thin, I kept underestimating how tall it should be!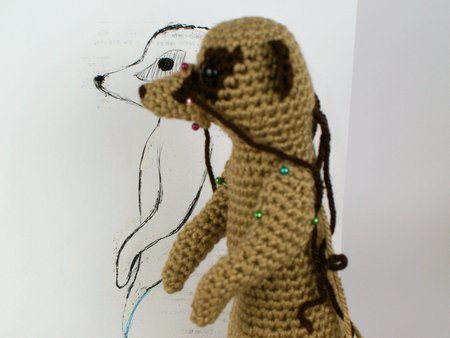 Full-size sketch for proportion reference
I typically have several designs on the go at once, and if I get stuck on one, I set it aside and work on something else for a while. The solution usually pops into my head a few days later, while I'm doing something completely different. Trying to force it doesn't seem to make my brain come up with the best solution any more quickly – I'll come up with something if I force myself, but I'll usually end up redoing that part later when I think of a better-looking or simpler solution, so it's best for me to just let it sit and wait for inspiration to strike.
That's what happened here: it took me 3 attempts to get the arms right, not because the shape was wrong, but to improve my technique so I could simplify the pattern while keeping that unmistakable shape – meerkats have very unusual arms! There's always a trade-off between making a design more realistic and making it easier to crochet, and, in my opinion, the best pattern will give a good balance: a recognisable result combined with an enjoyable crocheting experience.
Before I release a design into the world, I always take the time to stand back and consider if I've really done my best or if anything could be improved. If I'm not satisfied, it goes on pause for a while until I figure out how to improve it. That's the stage I'm at right now – I've roughly pinned all the pieces together so I can get a better idea of what else needs to be changed: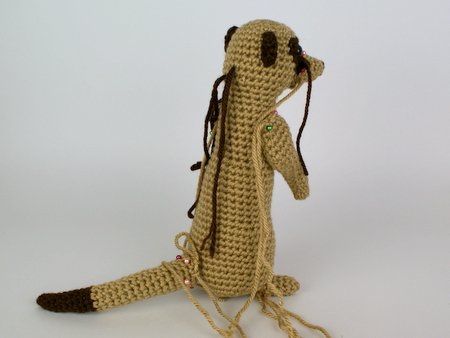 Almost there…
This isn't the final design, but it's pretty close! (I'll save the full reveal for the finished design.) I have a little more work to do on the leg area, and some placements need adjusting, but next time you see my meerkat, he'll be finished

---
So that's really it for the design process – my next steps will be to make the final tweaks to the design and then, when I'm happy with all the pieces, to photograph the assembly process. I'll write up my notes into proper crochet instructions, then edit my photos and describe the assembly process carefully so you'll be able to easily understand how to turn the crocheted pieces of your meerkat into a close copy of my completed design.
After this, I have to set the pattern aside for a while so I can approach it with fresh eyes for technical editing and proofreading. During this break, I'll be figuring out how to best photograph my meerkat so he'll look at his most appealing, then take him into the studio (or out on location) for his cover photoshoot. I'll select the best photos, edit them, and then add them to the pattern.
Once the pattern is complete, it'll be time to do a final check for accuracy and clarity, then the pattern will – finally – be finished! Everyone who commissioned it will receive their copy, and then I'll then publish it in my shop, so you'll be able to buy my Meerkat crochet pattern if you aren't among the commissioners.
---
I hope this insight into what goes into making a PlanetJune design has been eye-opening for you. Some of my designs come together more quickly and easily than this, but there's always a lot that goes on behind the scenes to create my deceptively simple-looking shapes and designs, and I don't regret a second of that time – it's always worth it

When I was writing my new book, I had a lot of project samples to crochet in a short period of time, and that's pretty hard on the hands.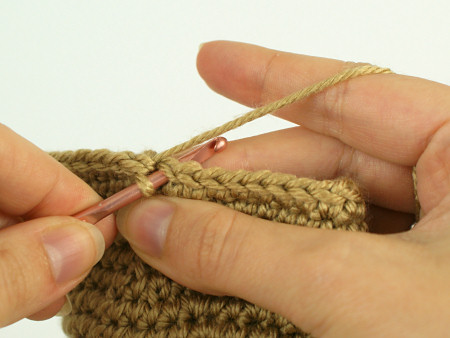 This is how I crochet (and this is my meerkat amigurumi, not a book project!)
When I've been crocheting for a while, the yarn starts to wear a groove in my forefinger as it rubs over it, and, if I keep going, my finger gets red and sore, and my skin condition gets aggravated. A chafed finger really isn't something you want to see in close-up book tutorial photos, so I needed a solution to protect my finger.

Groovy (and not in a good way) – this is after just a few minutes of fast amigurumi crocheting
First I tried crocheting a finger sleeve, which worked really well for comfort and maintaining tension, but it looked clunky, and after a few minutes of use it began to spin around on my finger and wouldn't hold in place. I also tried using plastic and metal yarn guides (meant for stranding multiple colours of yarn) which stopped the rubbing, but I found they messed with my tension.
Other suggestions from my ever-helpful Ravelry group members included finger cots, taping the finger, or wrapping paper towel around the finger and then taping over that.
In the end I found a very simple solution that works for me: I sewed a very basic finger sleeve from a smooth, stretchy, spandex-blend fabric. This fabric doesn't fray, so all I needed was one row of stitching to turn a small rectangle of fabric into a tube that fits tightly over my finger.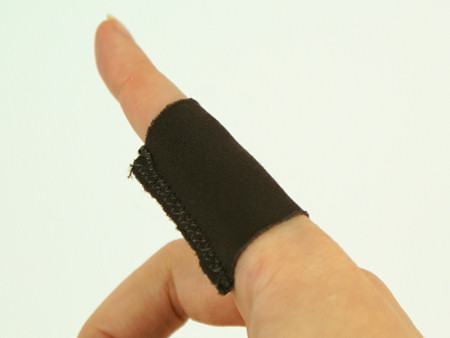 It's not pretty, but it works
When I wear it, my yarn runs smoothly over the fabric and it doesn't affect my crocheting tension. The tube did stretch a bit after a few days of hard use and became too loose to be effective, but I just stitched another seam slightly further in (thanks to Kris for that suggestion) and it hasn't stretched further since. The best part is it only takes a tiny scrap of a smooth stretch fabric, and you can customise it to exactly fit whichever part of your finger gets rubbed or irritated by your yarn.
I keep the seam on the outside so it doesn't dig into my finger, but rotate the sleeve on my finger so the seam doesn't touch the yarn. Sometimes a simple solution is best: this little tube took mere minutes to make but has already saved me a lot of discomfort as I worked on all my book projects.
I still use my finger sleeve when I have a heavy crocheting session or use yarn that chafes, and I think I'll whip up another half dozen or so – the biggest problem with finger sleeves is that they seem as prone as yarn needles to being mislaid! If I have a few handy, I'll be able to keep one in every project bag.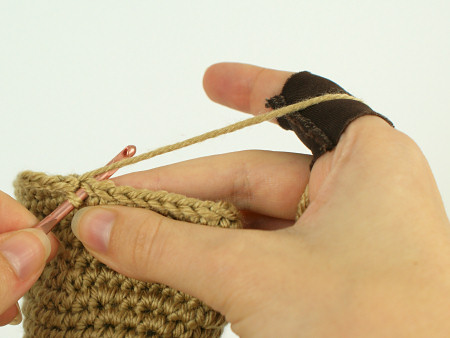 Problem solved!
If you'd like to try making a finger sleeve, look for a smooth fabric with spandex/lycra so it's nice and stretchy. Or, if you don't want to spend money when you only need a tiny scrap of fabric, I bet a piece snipped from an old swimsuit would work perfectly…
My starting fabric rectangle was 4cm long by 6cm around (about 1½ by 2⅜") but I have small fingers, so you may want a longer and/or wider tube. Just measure your finger and remember to add a little extra width for the seam allowance (but not too much, as you need a tight fit so it won't slip). If it's too loose, just sew another seam to make the tube slightly narrower, as I did.
Do you have problems with yarn chafing your finger when you crochet or knit? Please share what works for you in the comments!
« Previous entries