We're only 1 week into the Summer of Dinosaurs crochet-along, and the PlanetJune Ravelry group is already teeming with dinos. Just look…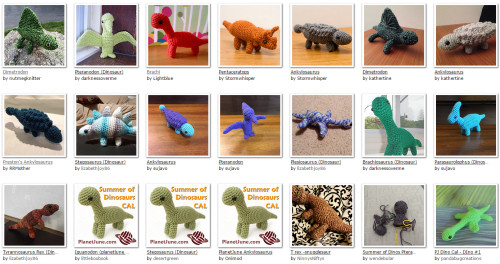 Rawr!
It's a thrill to see new unique colourful dinosaurs popping up every day, and to have lots of new participants joining our regular band of CALers! There are 6 more weeks to go, so that's plenty of time for even a complete beginner to crochet a dinosaur to join our virtual herd…
If you're tempted to join the CAL but you're new to amigurumi, or haven't made a PlanetJune pattern before, this is a great opportunity to have a go. Even if you've been crocheting for years, amigurumi (and my patterns in particular) use a specific set of techniques that you may not be familiar with.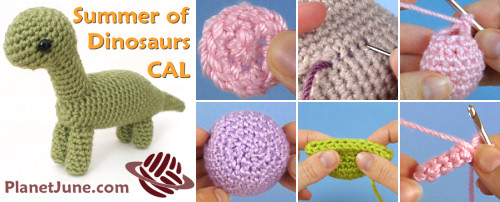 For your first dinosaur (or even your first amigurumi!) I recommend you choose the Brachiosaurus (who's also our CAL mascot, pictured above left), as it has simple shaping, only a few pieces to stitch together, and an undeniably cute result.
I have a comprehensive range of amigurumi tutorials at www.planetjune.com/help, but you'll only need a few of them for this CAL. To set you on the track to success, let's take a look at the tutorials for making the best-looking dinosaurs…
---
The Essential Tutorials
To make beautiful amigurumi with no lumps, bumps or holes, all you need are these 4 absolutely essential techniques:
---
Bonus Tips for Dinosaurs
For those dinos with horns, spikes, plates, wings and flippers, these tutorials have you covered:
---
Basic Techniques and Troubleshooting
If you're new to amigurumi-making or find your stitches don't quite look right, try these tutorials (or see my Amigurumi Troubleshooter for further assistance):
And if you still have any questions, that's what the PlanetJune community is here for: we have lots of friendly crocheters in the PlanetJune Ravelry group who understand exactly what you're going through, and are waiting to offer any help and advice you need.

---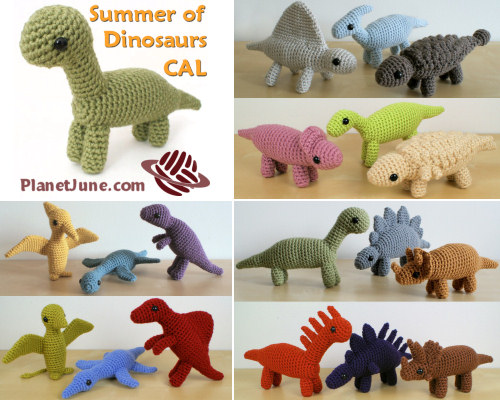 I hope this post has tempted you to join the dino fun this summer (and, don't forget you may win a great prize too, thanks to our CAL sponsor, Lion Brand!)