How It Works
My pattern commissions system lets you pledge however much you wish towards a new PlanetJune design. This helps me to get a feel for which designs will be popular and be paid a fair price for my work in creating the design without charging any one person excessively.
The Commissions Cycle
PlanetJune Commissions now run via a 5-step cycle: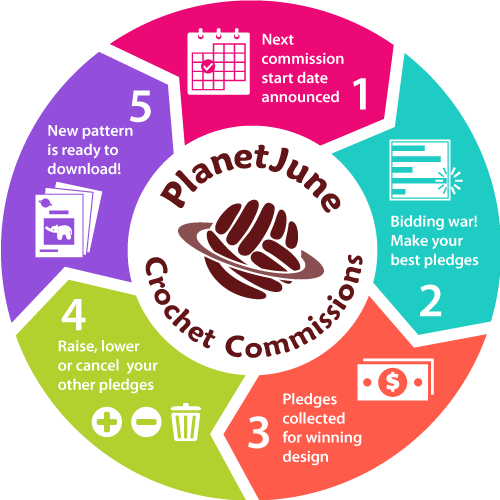 I announce the date I'll be able to begin work on the next commissioned design (join the Commissions News mailing list for notifications).
The bidding war begins - will your favourite be commissioned? Make your pledges and make it happen!
The first fully-funded design is locked in. Pledge monies are collected and design begins.
You can raise/lower/delete any of your other pledges, or make new pledges, whenever you wish.
Once the new pattern is complete, it's automatically available to download from all pledgers' PlanetJune accounts.
For more details on the system and how to pledge, see the FAQ.
Completed Commissions
To give you an idea of what to expect, here are some examples of previous crochet patterns I've designed through this commissions system:
Pledging
See the commissions status and current commissions options you can pledge towards on the Design Options page.
Make/edit pledges by logging into your PlanetJune account - you'll see the Commissions options in 'My Account'.