Thank you to everyone who requested a shrinkydinks ring tutorial! I hope this will answer all your questions. Please leave me a comment if you have any questions etc, or link to pictures of your own rings!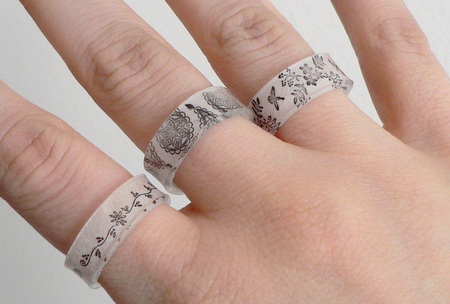 This tutorial is Donationware – the instructions are available for free, but if you like it please consider sending me a donation to show your appreciation: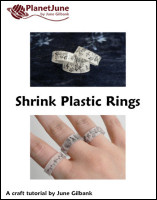 Send me a donation and receive the easy-to-print PDF version of the tutorial as a thank you! The PDF also includes my tips that I've made in the comments since creating this tutorial.

Donations of any size are much appreciated. Just add the amount you wish to donate, and, once you have checked out and paid, your PDF will instantly be available to download from your PlanetJune account.
The complete instructions are available below, regardless of whether or not you choose to pay for them

This is a PlanetJune original tutorial. Please do not share or reproduce this tutorial; instead post a link to http://www.planetjune.com/shrinkydinks
I'll answer some questions from the comments on my previous shrinky rings post before I get started, and add more hints and tips throughout the tutorial.
Shrink plastic, for the uninitiated, was originally marketed as a toy for kids. It starts life thin and flexible. You draw on it and then bake it in the oven, and it shrinks to become about 1/3 of the starting size, but 9 times as thick. This thickness makes it strong and hard. It will not bend after baking, so if you try to pull your ring open, or stand on it, it may snap, but it is strong enough to withstand regular use as a ring.
The last step (bending the ring into shape) is the most difficult, so I highly recommend that 1) you read through all the instructions before starting, and 2) practice on a blank piece of shrink plastic so you can get a feel for it and test your size and bending technique before putting too much effort into your design!
Full tutorial instructions are after the jump…

1. Find your shrink plastic
I use Shrinky Dinks Frosted Ruff N' Ready, which accepts rubber stamped images beautifully. Any transparent shrink plastic will work. If you use the coloured opaque shrink plastic, you would have to decorate the outside of your ring instead of the inside. You could also use the inkjet printable type of shrink plastic.
Note: If you are looking for sources, search for "shrink plastic" (generic term) not "shrinkydinks" (brand name) and you may have more luck. For example, for you UK people, googling 'Shrink Plastic UK' (without the quotes) will give you lots of online stores that sell it. You're looking for large sheets of it, not pre-cut shapes.
2. Measure and cut to size
Note: Different brand of shrink plastic may shrink by different amounts, so you might want to try baking a plain test piece to make sure you've got the size right before spending time on decoration.
If you know your ring size, you can use a ring size converter to calculate the desired circumference of your ring. The circumference in this case will be equal to the length of your strip of plastic (after shrinking). Shrinkydinks shrinks by approx 3 times, but I found I had to allow an extra 10% in the length measurement to compensate for the curvature in the finished ring. For my rings (finished size approximately US 6, UK J, and 6mm tall) my starting dimensions are 14.2 x 1.6cm.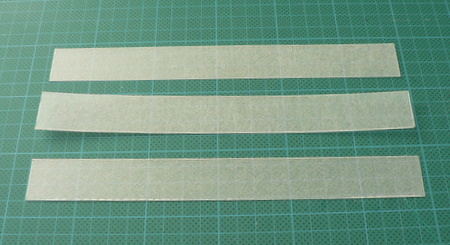 To cut the plastic, I like to use a guillotine (paper cutter) to get straight lines, but it's probably not good for the cutter blade (I use an old cutter blade). You could also use an xacto knife and metal ruler, or just cut the plastic with scissors.
The corners can be very sharp, so I like to round them off slightly with scissors before baking (don't worry if you forget this step; you can file or sand them down after baking).
3. Decorate shrink plastic
Follow the decorating instructions that come with your shrink plastic. Here are some ideas:
Rubber stamps + alcohol-based permanent inks (be warned: other types of stamp ink will smudge)
Fine-point permanent marker (e.g. Sharpie) to draw or trace your designs
Coloured pencils (use in combination with the above to add colour)
Print designs directly onto your plastic (inkjet shrink plastic ONLY)
If you're using the frosted type, remember to decorate the rough (frosted) side.
I used peg stamps to decorate my first rings. The designs are only 1cm tall so fit my rings perfectly. Below I have also tried some other rubber stamps:
Don't forget to let your ink dry before adding any coloured pencil embellishments, and remember that colours will become more saturated and vibrant after baking, so less is more in this case.
4. Find a suitable form to bend plastic around
Here's a useful tip to find an object of the right size to create your ring: take an existing ring, and try to slip it over various thin cylindrical household objects, e.g. marker pen barrel, wooden spoon handle, lip balm tube. You are looking for an object that is a tight fit inside your ring. If you don't have anything suitable, you could buy a short length of wooden dowel of the right diameter. Your object will come into contact with hot plastic, so don't use any treasured possessions for this step.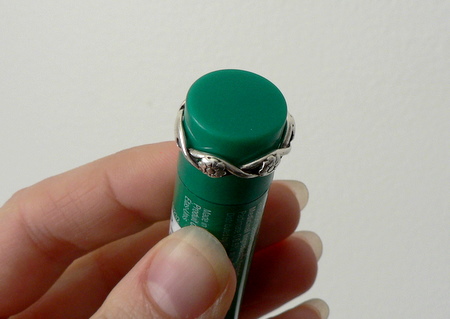 5. Shrink your plastic
This is the fun part!
Preheat a toaster oven or conventional oven to the temperature specified on your packaging. Make sure you are in a well-ventilated area so any fumes don't build up.
Note: Please read the instructions below all the way to the end before baking your ring – the shaping happens very quickly after baking so you need to be ready…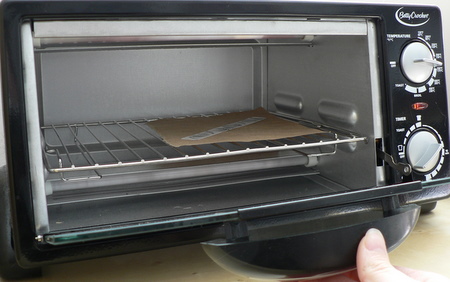 Place your strip (decorated side up) on a piece of brown paper on an oven tray, and put it in the oven. Keep watching… this is where the magic happens. Your strip will begin to curl up and wiggle about as some parts heat more quickly than others and so begin to shrink more quickly. Don't worry if it looks like it's stuck together – in my experience it always flattens out as it continues to shrink. When it has finished shrinking, leave it in the oven for another 30 seconds to heat through evenly.
Here's an animation of the shrinking process: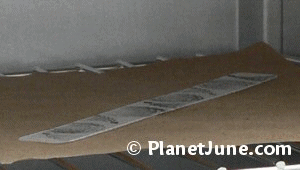 6. Shape your ring
When your strip comes out of the oven, you will have to work quickly – you only have about 10 seconds before it has cooled and becomes rigid. Disclaimer: to protect your hands from the hot plastic, you should probably wear a thin glove (for more control) or an oven mitt (for better protection against the heat) but I don't bother – it is hot, but the plastic doesn't stay hot for long enough to burn skin.
Remove the brown paper from the oven. Wait for about 2 seconds (so it's not too hot to touch), then carefully wrap the strip around your forming tool, with your decorated side facing in towards the tool. Hold it in place for a few seconds until it becomes cool and rigid.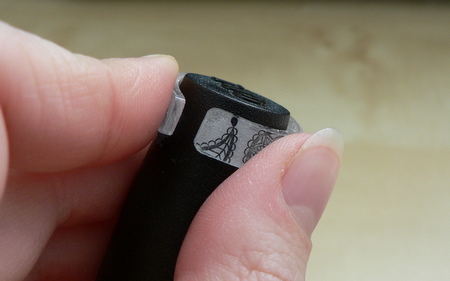 I'm not going to lie, this step is tricky. You really do have to work quickly, and not make any mistakes, otherwise you won't have time to wrap the entire strip around your object before it cools. But don't lose hope! There is a magic fix for a badly-formed ring like the one below…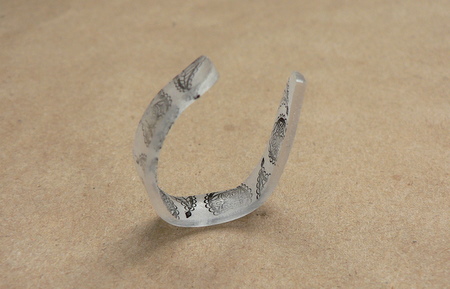 Pop your misshapen ring back into the oven on the brown paper, balancing it upright on its curved surface so the join is at the top (as in the picture above). After a minute or so, the plastic will relax back out of its shape, and revert back into a flat strip… I told you this stuff was magic! Let it heat through for about 20-30 seconds, then try to form the ring around your tool again.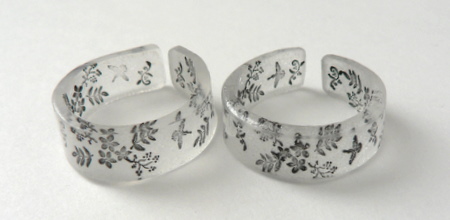 Left: unsanded edges; Right: sanded edges
That's it! You can sand down the edges to give a smoother finish, but this may partially obscure your design. You could also paint the edges after forming for a different effect. For more durability of your design, use a clear coat to carefully varnish the inside of the ring (one coat should be enough).
You can make matching earrings, charm bracelets or necklace pendants – just punch holes for the jewellery findings before shrinking the plastic, and remember that the holes will also shrink, so don't worry that they will be too large.
Enjoy your new jewellery!
I hope you enjoyed this tutorial! Please leave me a comment if you did, and consider leaving me a donation. Thanks!