Columbo has always been my favourite TV detective. I love how the show turned the detective genre on its head by showing the murder at the start, so you never had to guess whodunnit as you watched (something I never manage with my other favourite detective, Poirot), and how dishevelled, disarming Columbo always got the better of the arrogant, affluent murderers. I have all the box sets
on DVD and still think that watching Columbo makes for a perfect cosy Sunday afternoon at home.
When I heard that Peter Falk had passed away I decided to make an amigurumi Columbo as a tribute to all the years of brilliance he brought to his most famous role. And here it is: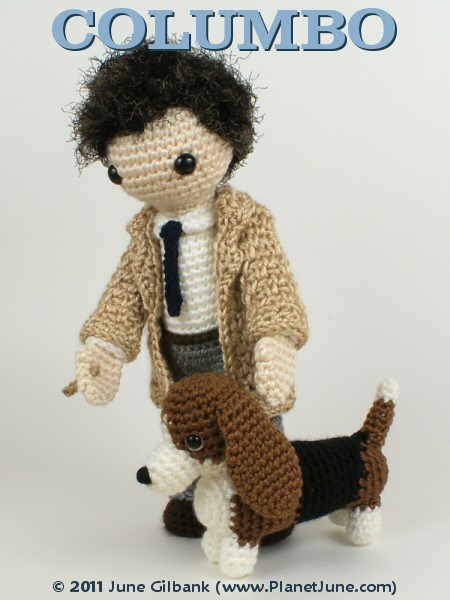 Please click through to see the larger version!
I used the Boy pattern from my own book, The Complete Idiot's Guide to Amigurumi. If you've seen my book, you'll know that I made my Boy and Girl patterns fairly generic so it's easy to customize and embellish them (using the techniques I explain throughout the book) to create any character. For ami-Columbo, I shortened the legs and added a belt, shirt collar and tie. I made the arms thinner so that the raincoat would fit over the top, I changed the hair, and I added the cigar. Apart from that, ami-Columbo is worked exactly as the Boy pattern.
"Excuse me, sir?"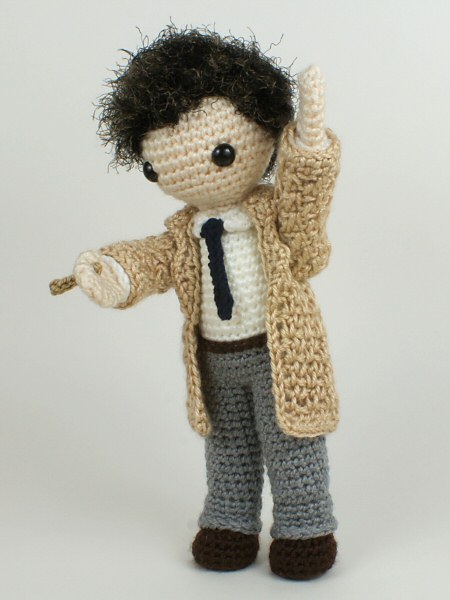 Reproducing Columbo's crumpled old raincoat took a long time of trying different hooks and stitch patterns until I found one that would give a flexible fabric without any lacey holes, so it wouldn't hang too straight and perfect or look too 'pretty'. I was going to make the raincoat fully removeable, but I decided that, as I wanted him to have jointed, poseable arms, I should work the arms (including raincoat sleeves) separately, and then attach them over the body of the raincoat. This way, the arms of the raincoat can move with his arms, so the fabric doesn't bunch when I change his arm positions.
"Sorry to bother you, ma'am…"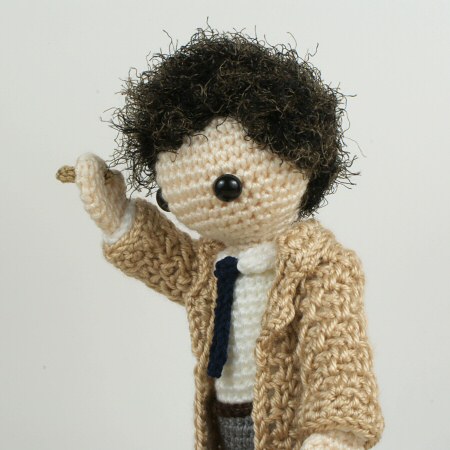 Ami-Columbo's hair is crocheted from 2 strands of curly eyelash yarn worked together (the black yarn alone was too stark, and the brown too light) with a side parting, and shaping at the back. Even his ever-present cigar is crocheted!
"What did you pay for those shoes?"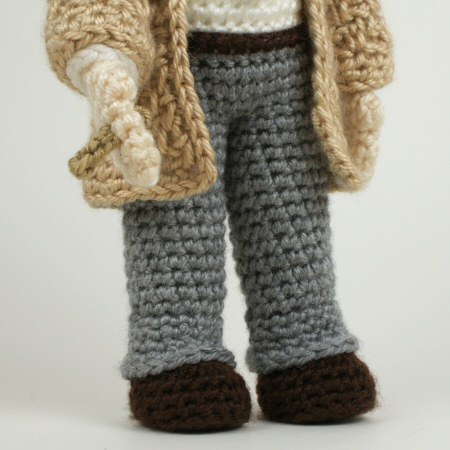 Of course, Columbo wears his scuffed old brown shoes, and, were you to peek under his trouser cuffs, he's wearing black socks too.
"Alright, now stay! Don't go running around. You see? This dog could be a lethal weapon; he's already partly trained."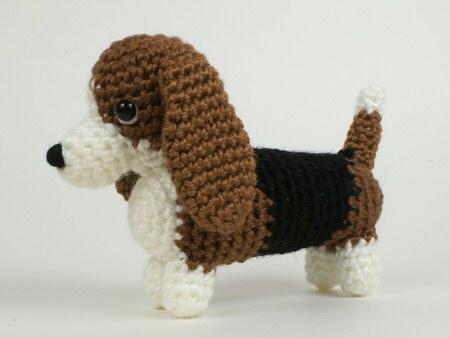 And how could I make Columbo without also crocheting Dog, his pet basset hound and sometime sidekick (talents: eating ice cream and staying in the car). By the way, if you'd like to make your own Dog, look out for my AmiDogs Basset Hound crochet pattern, coming next week…
UPDATE: AmiDogs Basset Hound crochet pattern is now available for purchase!

"Just one more thing…"
I did consider crocheting Columbo's other great supporting character: his battered old Peugeot car. Then I calculated how large it would need to be, to be in scale with ami-Columbo… Peter Falk was 5'6″ (let's say 5'8″ including shoes and hair); the Peugeot 403 was 176″ long. Ami-Columbo is 11″ tall, so at that scale, his car would have to be 28.5″ (72cm) long! I definitely don't have enough time or yarn to make something that size, although it would have made for an amazing crocheted diorama

I hope you enjoyed my little tribute to Lt Columbo and to Peter Falk – I hope he would have appreciated it! Please leave me a comment if you liked it…